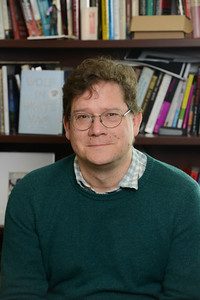 Associate Professor of Religion and the Arts Dr. David Dark has recently been featured in a couple of media outlets.
In March, Dark was featured in the Nashville Scene's "People Issue," which can be read here. In the article, Dark's love for "intellectual mischief" is explored as he aims to decompartmentalize human expression.
More recently, Dark coined the term "Robot Soft Exorcism" in a Twitter thread which inspired the latest single from Thrice on their upcoming album "Horizons/East." Dark joined Thrice's singer and lyricist Dustin Kensrue on his podcast to discuss the subject and other topics. Read more here.