Thirteen rising juniors from Metro Nashville Public Schools were nominated by their school administrators to participate in the inaugural year of the new "University You at Belmont University" program, a three-week, on-campus opportunity to take a college-level course. Belmont is committed to playing a supportive role in the community and working as a resource for area students to imagine themselves in college.
Dr. Keri Randolph, executive officer with MNPS, approached Belmont administration earlier this year with the idea to provide an innovative growth opportunity for students who are on track to becoming first generation college students and who would benefit from more focused attention. Knowing faculty would be on board, Belmont's team eagerly took on the grant-funded project and quickly assembled a cohort of diverse faculty from all different disciplines.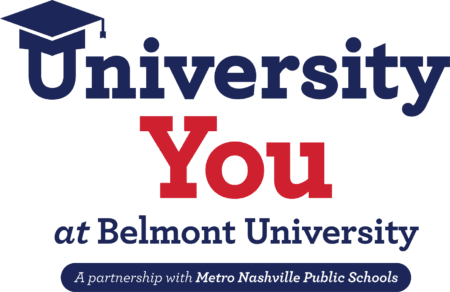 College of Theology and Christian Ministry Dean Dr. Darrell Gwaltney stepped in to lead the program on campus as a first generation college student himself. "As 'Nashville's University,' we have an opportunity to create a resource for our area's kids to experience life as a college student," he explained. "Of course we hope they'll end up as Belmont students, but just as much, we hope they'll be college students somewhere. Every one of the students came to campus unsure and nervous, and I bet by time they left they were thinking 'I can go to college.'"
Students completed a three-hour humanities course entitled "Understanding the Digital Divide" which creatively explored digital literacy in various subjects. Assistant Professor in the Honors Program Dr. Mary Ellen Pethel led the faculty cohort with Associate Professor of History Dr. Peter Kuryla, Assistant Professor of Art Dr. Emmanuel Saka, Associate Professor of Math and Science Dr. Michelle Guinn and Associate Professor of Political Science Dr. Nathan Griffith.
Pethel said they designed the course to be interdisciplinary in order to give the students research skills they will need in college, dealing with big issues in a way that would also give them concrete skills. "The first week we dove into big problems, discussing ways of knowing and working through some deep philosophical questions. Then, we took field trips to make connections between what they were reading and what they care about here in Nashville. We started with a 30,000 foot view of issues and then drilled down to how those issues impact their lives," she said.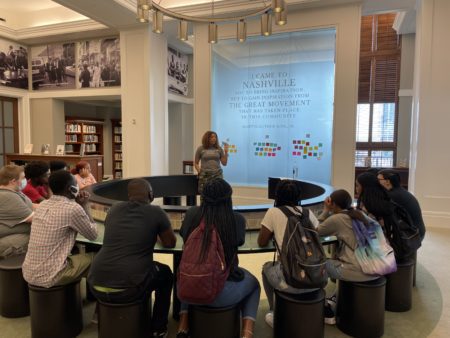 The class visited places around the city like the planetarium at the Adventure Science Center and Fort Negly. Courtney Buggs and Rebecca Price led a tour of the Civil Rights and Votes for Women Room Exhibit at the Nashville Public Library, helping students learn about people, places and events connected to local and state history, as related to issues of citizenship, social justice and civil disobedience.
The final week of the course was spent developing solutions to problems in their own neighborhoods or in Nashville and creating proposal presentations. Ideas revolved around bike systems in underserved areas, public park upgrades, bathrooms for the homeless population and creating safer sidewalks. Groups spent time learning to better understand their surroundings, becoming educated about city planning and working on theoretical budgets for their proposal before presenting them to the class.
Additionally, one of the main learning outcomes from the experience was what life is like as a college student. Pethel said students were thrilled to receive student IDs and Belmont email addresses, learn about the Belmont Fitness Center and try out on-campus dining. Journalism Instructor Jennifer Duck guest lectured on digital and media literacy and Studios Manager Dave Warburton gave students a tour of Johnson Center's sound studios and theaters.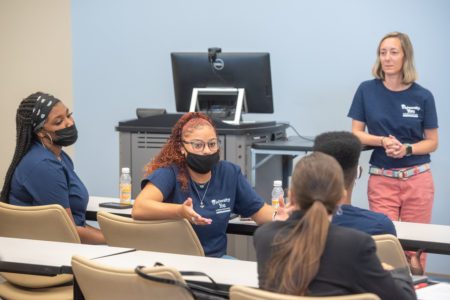 "Our goal was not only to deliver content, but to give the students a true college experience and let them know what life was like at Belmont. They weren't just coming to take a course, they were becoming dual-enrolled students" said Pethel. "This was possible because the folks at Belmont stepped up and worked together with the right set of motivations and intentions. We all asked ourselves, 'What can we give the students to make the college experience possible for them?' It was collaboration at its finest."
The plan for the program is to have classes of students return for a second summer to earn more college credit and work with the new incoming class. The program aims to eventually pull two participants from each MNPS high school, instead of the four schools from which the complementary Bridges to Belmont program selects, for a total of 50 students on campus each summer. With a strong template now in place moving forward, University You at Belmont will continue developing and growing over the next few years to become a solid resource for first generation students to acquire the skills and confidence needed to take the next step in their education.
View photos of the experience here.