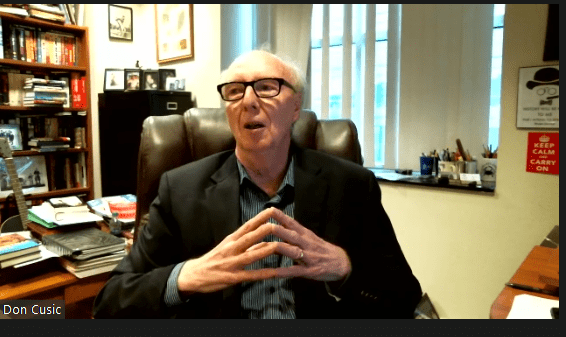 A couple of Belmont University's highpoints are its hometown of Music City and its excellent School of Music and Music Business program. Ahead of hosting the third and final Presidential Debate on October 22 and as part of Belmont's Debate 2020 programming, "The Ideas of America," Professor of Music Business Dr. Don Cusic embraced this musical angle further with a virtual presentation on "Politics and Country Music" on September 28.
Country music and politics have been linked since the 1800s. There have been country performers who have been elected to office, and country artists have lent their talents to politicians running for office. As a historian, author, songwriter, record producer and Curb College Professor, Cusic discussed several moments throughout history where country music and politics have been linked.
Much of Cusic's session told the story of Wilbert Lee "Pappy" O'Daniel – an American Democratic Party politician from Texas, who came to prominence by hosting a popular radio program. Through music from his fellow band members in the western swing band Light Crust Doughboys, original poems and a wholesome brand, O'Daniel built a large base of supporters. He was able to create an image of being a simple, country boy, and he became so popular that his supporters financed his campaign for governor in 1937, despite having no political experience.
O'Daniel won 53 percent of the vote. Knowing the fear of the country farmers with no social security plan in place, he proposed a pension plan of $35 a month for anyone over 60, which was four times the Texas budget at the time. He also promised not to raise taxes. However, this plan was never enacted.
Cusic laughed, explaining, "He didn't know what he was doing, and he had no intention of learning. He liked the position but not the job; in fact, he couldn't really do the job. There are two parts to politics. One is getting elected and the other is governing. Some are good at the first but not the second. And there are people the other way around."
This all occurred during Roosevelt's fireside radio chat era, and O'Daniel was able to connect with voters in that same way through his radio program. He ran with the message that he would protect the people from everything, and they believed him. He received 51 percent of the vote for his reelection and even made it to the senate before his lack of political knowhow eventually caught up to him in Washington.
Another example that Cusic shared was the story of Jimmie Davis, a recording artist with several big hits and roles in popular cowboy movies. After releasing "You are My Sunshine" in 1940, Davis performed the song instead of giving a speech at a political debate and ended up getting elected the governor of Louisiana. He continued recording music and staring in movies while in office and was later inducted into both the Country Music Hall of Fame and the Southern Gospel Music Association Hall of Fame.
Cusic mentioned other country singers who ran for office, including Roy Acuff, Stuart Hamblen and Tex Ritter. One of the first presidential campaigns to utilize country music was between George Wallace and Richard Nixon in 1968. Wallace's advisors worked to bring in Minnie Pearl to draw a crowd for the rallies, while Nixon got the endorsement of Acuff and Ritter. Cusic explained that with the ties to the country artists, the candidates seemed more accessible and relatable to the working class than did the far-removed politicians in Washington.
"The country audience at that time were the working class with simple and conservative politics, and they were the key voting audience," Cusic said. "They related to them by being the counter to the counter culture which was rock and roll, free love, drugs and the music of Jimi Hendrix."
Cusic played a clip of Merle Haggard's song "Okie from Muskogee" which contains lyrics around this topic such as "We don't smoke marijuana in Muskogee," "We don't burn our draft cards down on Main Street" and "We don't let our hair grow long and shaggy." The idea was to position the crowd opposite of the "hippies" in San Francisco and the demonstrators.
Cusic told many stories and related country music to its ties with political leaders all the way up to current day, mentioning that several country singers performed at President Donald Trump's inauguration, and his events frequently feature the country song "God Bless the USA."
To find more about the "Ideas of America" programming and view upcoming events, visit the Belmont Debate 2020 website's events calendar.