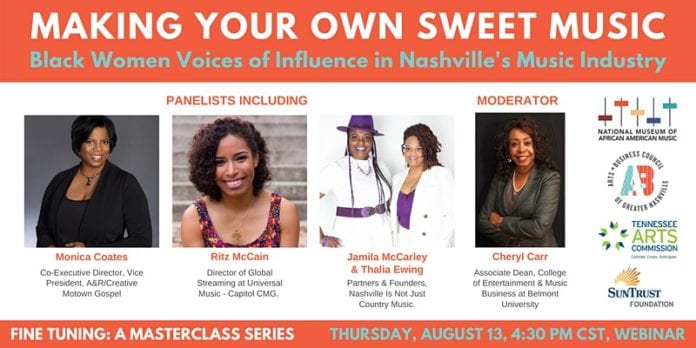 Panelists from Nashville's music industry shared their career journeys during the second webinar in a series of conversations about Black experiences and participation in the music industry, moderated by Associate Dean and Associate Professor in Belmont's Curb College of Entertainment & Music Business Dr. Cheryl Carr.
The event focused on Black Women Voices of Influence in Nashville's Music Industry, exploring working in the music industry as a Black woman, recognizing that each woman's story is different and unique to her. Panelists shared their career journeys, from seizing opportunities to overcoming challenges that have led them to influence and impact the music industry in powerfully distinctive ways. The series is a partnership between the National Museum of African American Music and the Arts & Business Council of Greater Nashville.
Panelists included Monica Coates, co-executive director, vice president and A&R/Creative at Motown Gospel, Ritz McCain, director of global streaming at Universal Music, Capitol CMG, and entrepreneurs Thalia "Muziqueen" Ewing and Jamila McCarley, partners and founders of Nashville is Not Just Country Music.