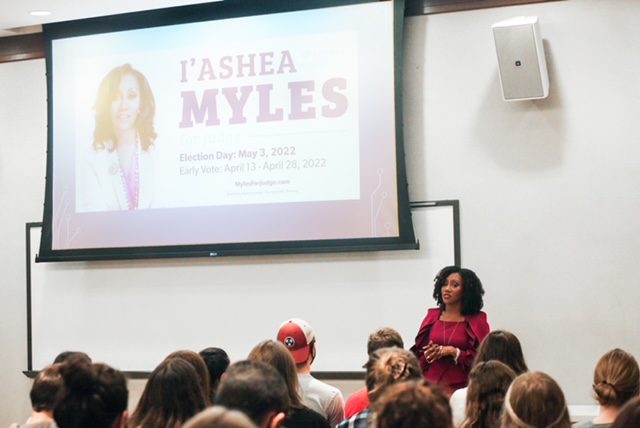 Each semester the Belmont Office of Leadership Development–BOLD– hosts "Leadership Lately," an opportunity for Belmont students to learn how BOLD leadership competencies are demonstrated in the community and throughout the world. Nearly 100 student leaders used the opportunity this fall to learn from author David Hutchens and Belmont alumna I'Ashea Myles.
Hutchens discussed the importance of story-telling in leadership and shared how storytelling drives companies such as Coca-Cola, Wal-Mart, GE, L'Oreal and Nike to the top of their industries. In his workshop, Hutchens was able to not only tell his story, but show students the importance of telling their own. Hutchens pointed to a quote from Ghandi saying, "It's impossible to hate a person whose story you have heard." Telling stories allows people to understand who they are and what they believe. Hutchens also demonstrated how we make connections through storytelling as it empowers the people we are leading to have a voice and share their own stories. Leaders who use stories to express the importance of a thing have deeper and longer lasting impact.
In the second Leadership Lately session, with not an empty chair in the room, students heard from I'Ashea Myles, Belmont undergraduate and Law School alumna. Myles skillfully communicated with students about the importance of taking risks, building relationships and stepping outside of their comfort zones. "Break the glass," she exclaimed. She shared her story of being a lawyer in construction law in Nashville and used data, art and progressive leadership books to detail why it is important for students to be opportunistic, especially when no one else has raised their hand to step up. Myles explained that she wants to make "Nashville better for everyone." It was evident that she lives and embodies this philosophy in her everyday life as she is currently a judicial candidate for Davidson County Chancery Court III. With her encouraging words and empowering demeanor, Myles related to the students as she was once in the shoes they currently walk in. Dozens of student leaders stayed long after the session ended to express their appreciation for Myles and her personal leadership story.
Students may attend BOLD's final events for the fall semester: Tower Talks on November 10 at 10 a.m. in Beaman B, PULSE Student Leadership Advance on November 13 at the Nelson Andrews Leadership Center and, in partnership with the Massey College of Business Executive Learning Networks, the Next Level Leadership Conference on November 16.
Students may email bold@belmont.edu to learn more about participating in these experiences to earn a co-curricular certificate in leadership through BOLD.