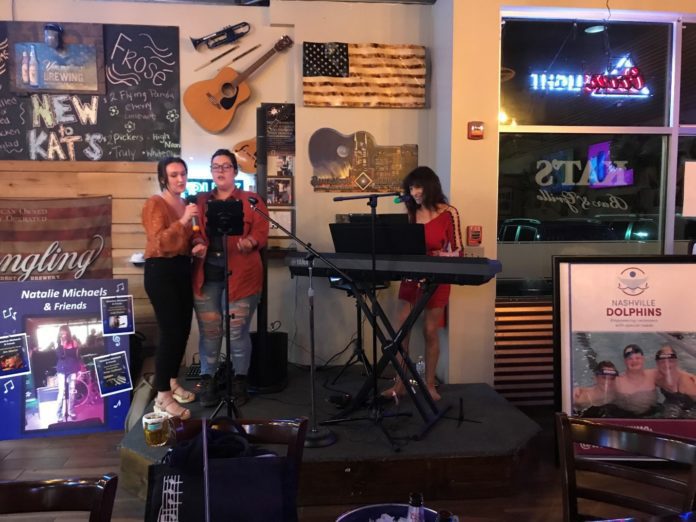 On October 17, Dr. Natalie Michaels, professor in Belmont's School of Occupational Therapy, hosted and performed in a musical fundraising event at Kat's Bar and Grill in Mount Juliet, Tennessee in support of the Nashville Dolphins. Occupational therapy alumna Dr. Roya Rezadoost and psychology alumna Audrey Thresher also sang for the cause.
"We always have a good time at this event, especially with our talented Belmont graduates," said Michaels. "This year was extremely successful. When we do this event, everything in the tip jar goes directly to the charity, and this year we raised more than ever before. We were thrilled with the turnout for this fundraiser, thanks to Kat Reed of Kat's Bar and Grill, Rick Michaels for his never ending support and to our awesome graduates. Belmont graduates rock!"
The Nashville Dolphins are a group of men and women, under the direction of Brenda Vroon, who teach water safety and swimming to children and adults of all ages with Down Syndrome and other special needs. Founded by Beth Scruggs and Dotty Sutter, the organization provides swimming instructions to this population at no charge to the participants, so it relies on volunteers and donations. Not only have the Nashville Dolphins decreased the number of deaths from accidental drowning in this population, they have had a number of their participants go on to swim in the Special Olympics.
Michaels hosts the event each year, performing her own music and songs from Whitney Houston to Portugal the Man. The event also featured Jim Martin, a guitarist and singer who has been supporting this venture for years, and Josie Award-winning artist Judy Paster, who sang some of her own inspirational and impassioned music.