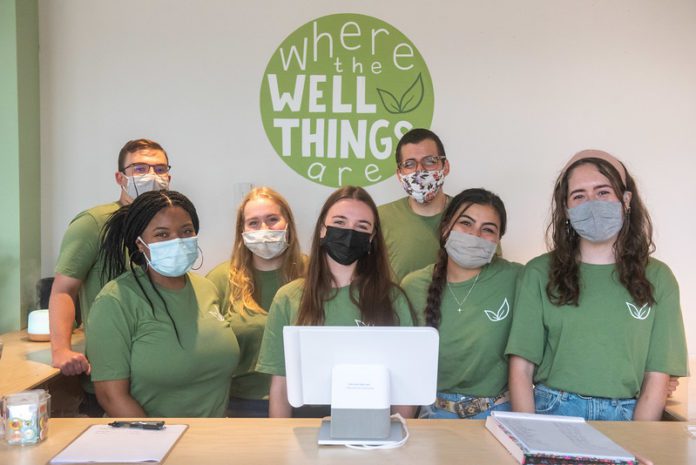 After a year of heightened anxiety, less socialization and increased Netflix binging, a group of 12 Belmont University students launched a plan to help their peers begin feeling less isolated and get back on track to a life of wellness. This plan came in the form of opening the campus's newest student-run business: Where the Well Things Are.
"In the past two years, a lot of people have realized that they were mostly just going through the motions and didn't have a personalized vision of what wellness meant to them," said Erin Eversole, store manager and senior marketing major. "I think the pandemic, quarantine and being less social made people realize that they needed to start being more intentional about their wellness. When we realized that it was time for a new student-run business on campus, we started taking suggestions on what students wanted to see in the space. We realized that they all had some connection to wellness, so we put them together."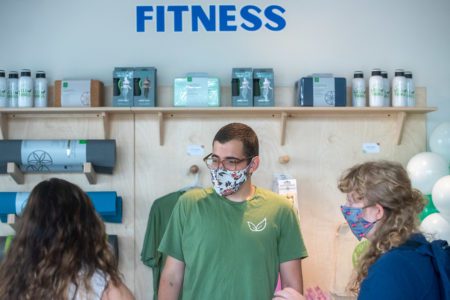 The team of 12 were responsible for the conception of the business, the selection of products and now the daily management of the store, with oversight from the Thomas F. Cone Sr. Center for Entrepreneurship. Together, the students combined their various skills and interests to create a store solely focused on college students' wellness journeys.
"Some team members who are more right-brained worked to design the store, the displays and our logos, while our left-brained team members worked to create financial documents, track shipments and analyze customer data," said Eversole.
Although wellness should be everyone's priority, junior corporate communications major and store associate/graphic designer Daphne Johnson said the team found that many college students struggle with focusing on their personal wellness while at school. "Wellness is especially important for college students, who often find themselves sacrificing wellness for convenience," she said. "Here, we're hoping to make wellness convenient."
And that is exactly what the team did. From yoga mats to books about the art of living well, Where the Well Things Are products fill the spectrum of wellness, from physical to spiritual to mental well-being.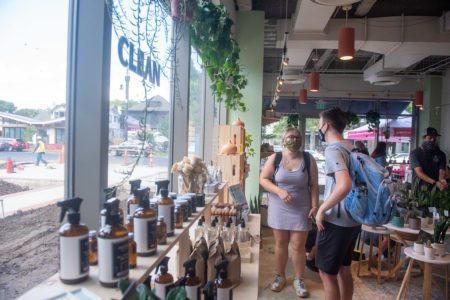 Not only can customers get the most up-to-date wellness products right on campus, they can rest assured knowing all products are cruelty-free. "We tried to make sure we were supporting reputable companies that made quality products. Think vegan, cruelty-free and environmentally friendly," said Eversole.
In addition to selling products made by larger companies, Where the Well Things Are made sure to support the local Belmont community.
"We wanted to support Belmont alumni, so you will find several alumni products in our store, like Walker Brothers kombucha, Hoop House plants, Bizi honey sticks and more," said Johnson.
After a successful opening on August 27, the students have started thinking about what the future holds for Where the Well Things Are.
"We're excited to start having more events and doing more outreach, and the support since we've opened has been really encouraging," said Eversole. "Hopefully a year from now we will have expanded our selection of products to include more current students, alumni and local businesses. We would love to partner with the broader Nashville community on wellness programming."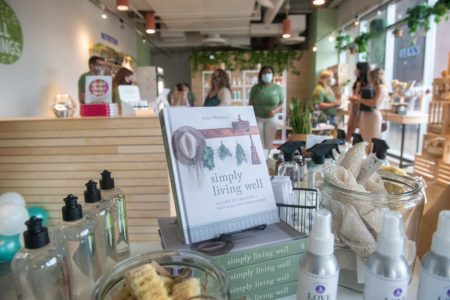 The students wasted no time trying to get involved with the Nashville community. Through all of October, which happens to be Campus Sustainability Month, Where the Well Things Are will be selling limited edition tote bags. 25 percent of proceeds from the sale of the bag will go towards Earthjustice, a nonprofit environmental law organization that provides legal support for environmental activists.
To stay up-to-date on all things Where the Well Things Are, follow them on Instagram @wellthingsnashville. You can also visit the store located on Belmont Blvd., open Monday-Saturday from 11 a.m. – 6 p.m.