Intent on transforming lives through education, Belmont University's innovative Bridges to Belmont program is about to significantly increase in size with the goal of having a multiplying effect on the impact the program has on Middle Tennessee. Started more than eight years ago with a charter class of 27 students, the Bridges to Belmont initiative was designed to provide high-need, high-achieving students from four Metro Nashville Public Schools (MNPS) full-ride access into a Belmont University education. Since its launch in 2013, the initiative has grown to 34 students annually, and now will take a significant step forward to expand to 50 students per year. Those students may now originate from one of 10 different local public high schools. In future phases, the vision is for Bridges to Belmont to expand to invite applicants from all public and charter schools in the greater Nashville area.
Belmont President Dr. Greg Jones said, "As part of our inaugural year theme to 'Let Hope Abound,' I've asked our campus community to consider ways we can help our hometown and surrounding suburban and rural areas thrive. We believe we can do so in part by educating and forming more local students to become problem solvers and leaders of character who can address the challenges of today and tomorrow. Every young person in Middle Tennessee deserves to flourish, and by expanding our Bridges to Belmont initiative, we can contribute to giving more students from under-resourced backgrounds access to an education that can transform their lives and their families' lives for generations to come."
Retired HCA Healthcare CEO/Chairman, Belmont alumnus and Belmont Board of Trustees Chair Milton Johnson, who with his wife Denice created a $10 million endowment to support the Bridges to Belmont initiative in 2015, added, "Bridges to Belmont provides a vital pathway to higher education for students in the Nashville region who might not otherwise be able to consider a four-year college degree. My Belmont scholarship was a life-changing experience for me, and we want more Nashville high school graduates to have that same opportunity. This expansion of the Bridges program will demonstrate to local students that Belmont believes in them—we believe in them—and there are no limits to what they can achieve in life."
Currently participating in the Bridges to Belmont initiative are Stratford STEM Magnet, Maplewood, Whites Creek and Pearl-Cohn high schools. For the upcoming recruitment cycle for Fall 2022 enrollment at Belmont, applicants will now be accepted from an additional six local high schools: Glencliff, Hillsboro, Hillwood, Hunters Lane, McGavock and Overton. The program requires a minimum cumulative GPA of 3.0 and a 20 ACT score, though Belmont is also continuing to operate as test optional for admissions. Priority will be given to first generation, Pell Eligible applicants. Local students are encouraged to contact their high school guidance counselors for information on how to be considered for the Bridges to Belmont program.
Nashville Mayor John Cooper said,"Bridges to Belmont has provided full scholarships to more than 280 of Nashville's students from Pearl Cohn, Stratford, Maplewood, and Whites Creek high schools. It's a life-changing program, providing Metro students with the opportunity to realize and fulfill their academic potential. I'm grateful to Belmont for expanding the initiative to serve even more of our MNPS students and their families."
"Bridges to Belmont is a fantastic program that has the power to transform the lives of our students and set them up for a lifetime of achievement," added Dr. Adrienne Battle, Director of Metro Schools. "We've already seen it happen many times. Belmont is a great community partner in the success of MNPS, and I'm grateful for the continued and expanded commitment by Dr. Jones in this successful program and in future programs and partnerships to strengthen the ties between our two organizations."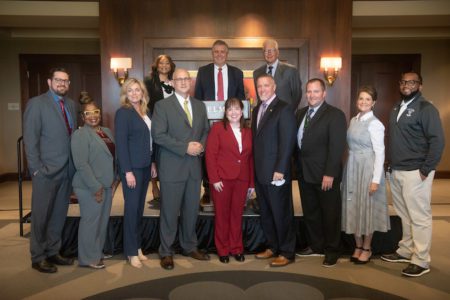 When it began, Bridges to Belmont reflected a deliberate step on the part of Belmont's administration to enhance the University's cultural and ethnic diversity while also continuing efforts to provide higher education to students in Davidson County. Bridges to Belmont Scholars, many of whom are first-generation college students, each are awarded a full four-year scholarship that covers tuition, room, board, required fees and books (from state and federal grants as well as Belmont scholarship funds.) Throughout their higher education experience, they also are given academic support and peer mentors.
Shirley Kyere, a member of the inaugural Bridges cohort, graduated in May 2017 as a biology major and now works as an associate at a Maryland research firm. She noted, "Being a recipient of the Bridges to Belmont scholarship is probably one of the most exciting and honorable experiences I have ever had. I can confidently say on behalf of my fellow scholars, this opportunity was a life-changing one for us. I do hope any individual who receives this scholarship cherishes it to the fullest. I am glad I was able to spend four years of my life at such a prestigious university without having to worry about financial stress. I will like to use this opportunity to thank Mr. and Mrs. Johnson and Dr. and Mrs. Fisher for their generosity and kindness. I also want to thank Dr. Jones for continuing this scholarship program and providing other students with an opportunity to benefit from this program like many of us have."
As part of the planned program expansion, Belmont is also implementing new organizational reporting structures to increase focus on specific areas that might otherwise have had the potential to impede students' persistence and growth. A new "Student Success and Flourishing" initiative will be launched to provide academic and co-curricular support and will incorporate the University's Learning Centers and GPS office, among others, to guide students' transition into and throughout their college careers. The new initiative will also centralize efforts for onboarding and supporting students transferring to Belmont from community colleges or other four-year institutions.
"This expansion to include more local students and schools, and to introduce an initiative focused on student success and flourishing as a dedicated support mechanism, is just the beginning," remarked Jones. "Belmont is adding two new positions – an Assistant Provost for Student Success and Flourishing, supported by an Assistant Director of Admissions for Access, Equity, Diversity and Inclusion – that will be charged with finding opportunities with Tennessee's rural communities, community colleges, community-based organizations and underserved student populations to create even more bridges and pathways to a transformative educational experience."
Currently, there are 123 Bridges Scholars enrolled at Belmont who collectively hold an average 3.41 GPA. Many of these Scholars are active student leaders holding executive board or chair leadership positions in a number of organizations, including the Black Student Association, Greek Life, HOPE Council, Student Government Association, Hispanic Student Association, Belmont Engineering & Robotics, Bruin Recruiters and more. To date, Belmont's investment in MNPS students through the Bridges to Belmont pathway exceeds $34 million.
To learn about ways to support this important initiative, please contact Belmont's Office of Development at development@belmont.edu or 615-460-5517.