Tennis competition returns to Belmont's campus this week as a new six-court facility atop the University's recently completed South Garage celebrates its grand opening. A ceremony was held this morning to officially cut the ribbon on the tennis facility, which will be the permanent on campus home for Belmont's NCAA Division I men's and women's tennis teams. The teams have played for the last decade at nearby Centennial Sportsplex following the construction of the Baskin Center near the site of the former courts.
Belmont President Dr. Bob Fisher said, "Tennis is a popular sport in my own family so I'm particularly pleased to see these new courts open on campus. This facility will serve our teams well in their competitions, while also giving our fans easier access to cheer them on. Plus, I'm excited that we'll be able to offer the entire campus community an opportunity to enjoy recreational play when the courts are not in use for Athletics matches or practices."
The tennis facility, which sits on the top floor of a new 830-space parking garage, includes team locker rooms and coaches' offices in addition to the six NCAA Division I regulation courts. The structure also will connect to a new indoor practice facility that is currently under construction, which will serve as the primary training home for Belmont's men's and women's basketball and volleyball programs when it opens later this year.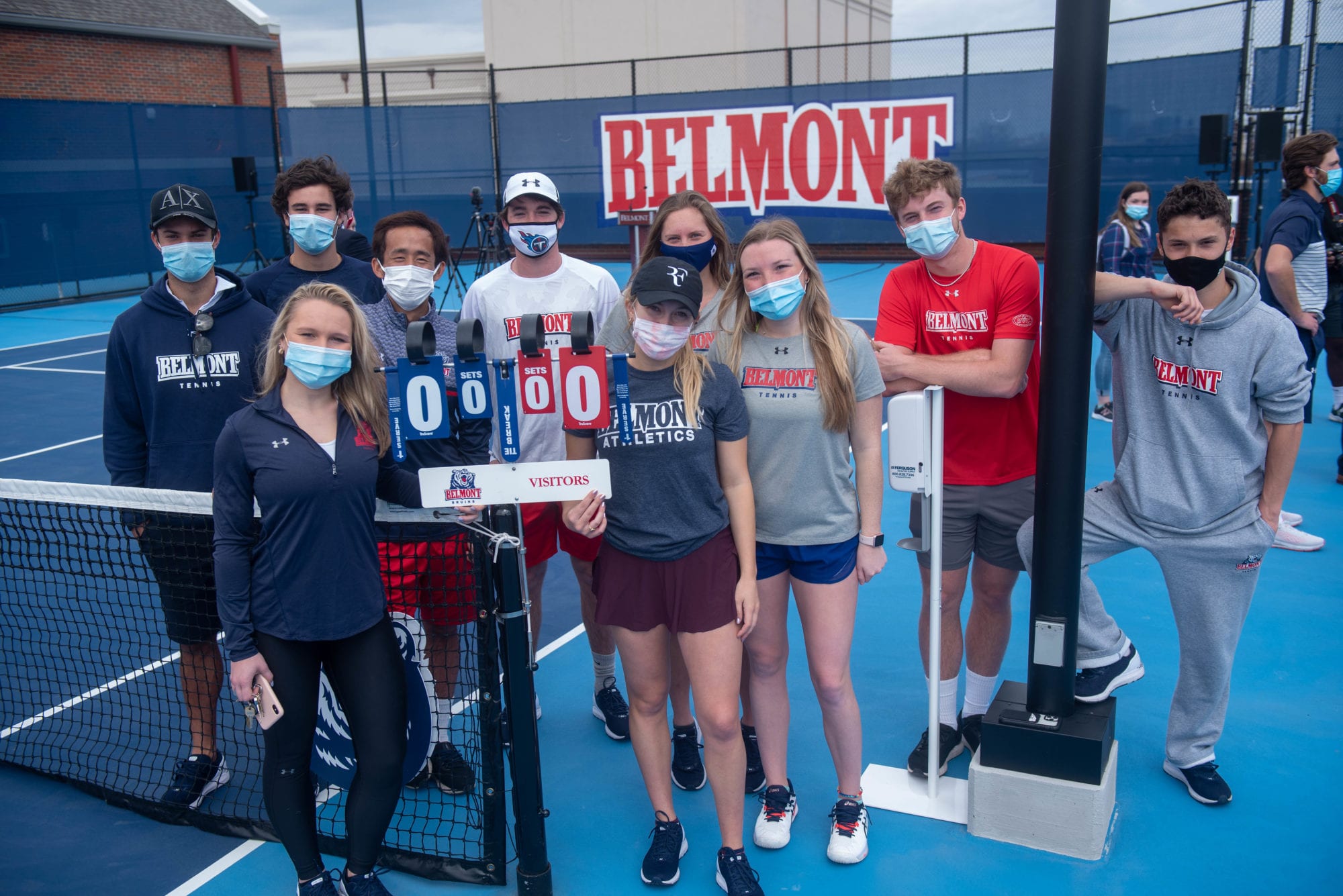 Belmont Athletic Director Scott Corley added, "With the tennis center and the indoor practice facility sitting just across the street from the Curb Event Center, the south side of Belmont's campus has become a dream sports hub for our programs and our student-athletes. This centralized complex will provide tremendous benefits for player development and will certainly be a strong draw for us in recruitment. I speak for all of Athletics in expressing our immense gratitude for Dr. Fisher, the Board of Trustees and our donors for their support."
The tennis facility is being made possible through the generosity of multiple donors, including avid Bruins fan and former Belmont tennis player Pat Johnson. Johnson fulfilled her dream to establish an endowed scholarship for every sport at Belmont with the help of her son Jeff, a 1982 alumnus. Pat's first scholarship was the Johnson-Rotella Women's Tennis Endowed Scholarship in honor of her mother who encouraged her to go back to school following a lengthy absence to raise her family, and she graduated in 1993. In recognition of this tremendous support, the Pat Johnson Tennis Team Lounge is being named in her honor. The facility also recognizes the legacy of the Joe C. Davis Foundation's support provided by Bill and Bond DeLoache.
Belmont's tennis teams begin play on their new home courts this weekend with matches Friday against Radford University (men at 11 a.m. and women at 3 p.m.) and Saturday versus Carson-Newman (women at 9 a.m., men at noon). Led by Director of Tennis and 2014 OVC Player of the Year Mauricio Antun, the Bruins are showing outstanding promise, as the men's team is coming off consecutive OVC regular season championships as well as sending a team to the 2019 NCAA Doubles Championship while the women's team secured a No. 4 seed in the 2019 OVC Tournament.