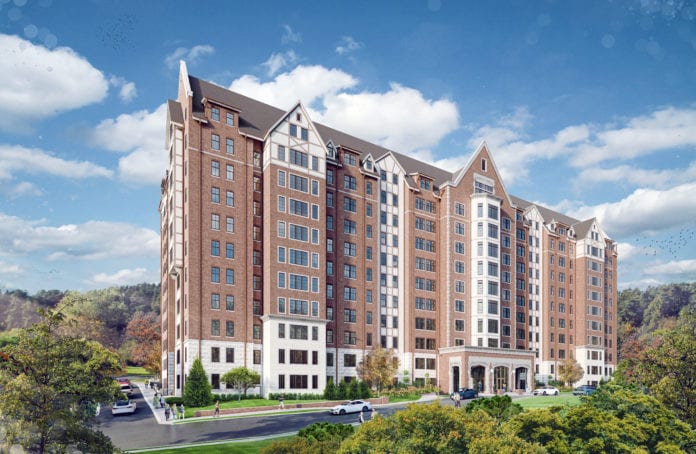 In the wake of the successful Presidential Debate held on Belmont's campus and the recent announcement of plans for a new College of Medicine in partnership with HCA Healthcare, Belmont University continues to push forward, investing in growth and in student success. The latest evidence of this is the announcement of a new residence hall to be built on Caldwell Avenue, set to open in the fall of 2022. The 268,000 square foot structure will join the residential village created with the completion of Tall Hall in 2018 on the south end of campus. Like Tall Hall, this building will provide incredible views of downtown Nashville and will house more than 600 upperclassmen upon completion.
Approximately 60 percent of Belmont's undergraduate population lived on campus in 2019, and the new hall will increase residential spaces enough to raise that to almost 70 percent of undergraduate students as Belmont remains committed to providing students with a traditional residential, liberal arts-based education.
Belmont President Dr. Bob Fisher said, "We believe our students get the best out of their college experience when they call this place their home. We want them right here in the heart of all that is going on, and I'm proud that we will be able to offer that opportunity to hundreds more of our upperclassmen in this state-of-the-art facility. I believe in our students and I believe it is so important to continue investing in and providing additional resources to support our students and help our campus grow."
The building will feature all private bedrooms in apartment-style living with a multitude of amenities such as a fitness center, flexible basement space and vending area, a unique two-story lobby featuring study and gathering areas, mail and laundry rooms and two exterior courtyards. The structure will be built with the same high-performance environmental standards as other Belmont projects and will feature exterior limestone and brick accents. Nashville-based R.C. Mathews is the contractor and ESa the architect for the project, which is anticipated to have a total cost of $98 million.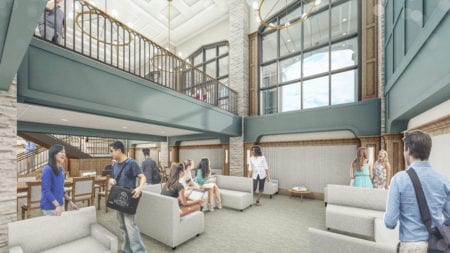 "This project is just the latest example of Dr. Fisher's and the Board of Trustees' constant commitment to provide the transformational experience of on-campus living," said Dr. Anthony Donovan, associate dean of students and director of Residence Life. "The University continues to provide students a great place to live that rivals the best housing in Nashville, but with the support and structure that leads to increased success while at Belmont."
This residence hall will add to the 3,500 residential spaces that Belmont has built on campus in the past several years through the construction of 11 residence halls, just part of the extraordinary campus development that represents more than $1 billion invested in new construction, renovations and property acquisitions.
Other campus projects currently under construction include the new Belmont University Performing Arts Center and an indoor athletics practice facility, both slated to open in fall of 2021. The Belmont University Performing Arts Center, which will be located between Bernard and Compton Avenue on Belmont Boulevard, will house a 1,700-seat multi-purpose theatre, a grand lobby and two contiguous event spaces that can hold more than 900 guests when combined with the lobby. The two-story, 45,000 square-foot indoor athletics practice facility located on Compton Avenue will house two full courts for basketball and volleyball. The project will also feature athletic training and strength and conditioning space, a video room with theatre-style seating, locker rooms, coaches' offices, conference rooms, equipment rooms and team lounge areas.