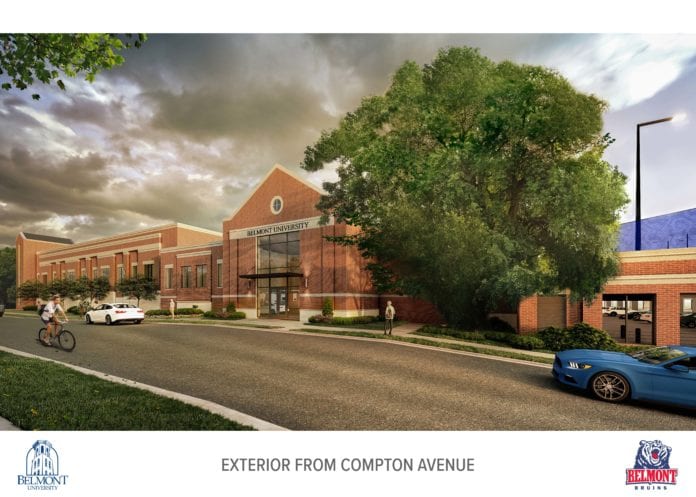 Belmont University President Dr. Bob Fisher announced Wednesday plans for construction of an indoor practice facility to benefit athletics.
The facility will serve as the primary training home for Belmont's nationally-regarded men's and women's basketball and volleyball programs, and complement the existing game day environment at the Curb Event Center. Watch a video played during the press conference here: Hype Video.
"This is an exciting day for Belmont University and our student-athletes," Fisher said. "The indoor practice facility project coincides with other transformational capital projects on campus, and speaks to our commitment to provide Belmont students with the facilities, tools and resources to thrive academically, athletically and spiritually. The facility will unite Belmont champions of the past, present and future."
In addition to housing two full courts for basketball and volleyball, the two-story, 45-thousand square-foot facility will feature athletic training and strength and conditioning space, a video room with theatre-style seating, locker rooms, coaches' offices, conference rooms, equipment rooms and team lounge areas.
"This indoor practice facility is a game-changer for Belmont University Athletics," Belmont Director of Athletics Scott Corley said. "We thank Dr. Fisher and the Board of Trustees for their support, as this project builds on our championship tradition and positions us favorably in attracting student-athletes who want to be part of the next chapter of Belmont's success story."
The indoor practice facility will be located on Compton Avenue and will include a shared lobby with Belmont Tennis at the adjacent Belmont University South Garage.
The project is scheduled for completion in Fall 2021.
Belmont men's and women's basketball and volleyball have made 17 NCAA Tournament appearances combined.
About Belmont University Athletics
Belmont University sponsors 17 sports in NCAA Division I and is a member institution of the Ohio Valley Conference (men's soccer, affiliate member of the Southern Conference). Belmont University Athletics, annually among the NCAA leaders in Academic Progress Rate (APR) and Graduation Success Rate (GSR), boasts 33 CoSIDA Academic All-American selections and has earned the conference academic achievement award 16 of the last 18 years. Belmont University has proudly accepted the Ohio Valley Conference Institutional Sportsmanship Award four times, and has student-athletes garner national recognition for community service and civic engagement. For more information, visit belmontbruins.com.