Belmont University was the only American university this year to receive the Japanese Foreign Minister's Certificate of Commendation. At a ceremony on February 10, the Consul-General of Japan, Ms. Kayoko Fukushima, presented the award to Belmont President Dr. Bob Fisher. The award is conferred upon Belmont in recognition of the school's contribution to promoting Japan and strengthening mutual understanding between Japan and the United States.
The Foreign Minister's Commendations are awarded to individuals and groups with outstanding achievements in international fields, in order to acknowledge their contributions to the promotion of friendship between Japan and other countries and areas. The Commendations also aim to promote the understanding and support of the Japanese public for the activities of the recipients. This year, the Commendations were awarded to 172 individuals and 65 groups, with only 54 groups residing outside of Japan.
Director of the Japan English Teaching program of the Office of the Consulate General of Japan, Nashville, Tye Ebel wrote, "I would like to congratulate you on this auspicious occasion. We truly appreciate our friendship with you, the Asian Studies Program and the University as a whole."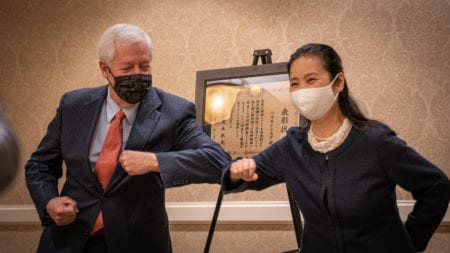 Dr. Ronnie Littlejohn, director of Asian Studies, wrote in the summary of collaboration, "Since 2010, the partnership between Belmont University and the Office of the Consul-General of Japan has been significant in changing the academic culture of the University, and in reaching into regional education and community culture to create greater understanding of Japan, its people and culture. We have enjoyed ongoing and productive partnerships through three different Consuls General of Japan in the Nashville, Tennessee office."
Such activities include annual joint projects, exchange teaching programs, educational symposiums and lectures on campus, partnerships with Japanese universities and other Belmont-sponsored events that promote the history and culture of Japan. Learn more about Belmont's Asian Studies program here.