Actors and actresses often use theater magic to portray illusions through a variety of props, precisely-timed lights or smoke bombs. However, this fall, Belmont students had the opportunity to study a different technique of storytelling through an international workshop from the Frantic Assembly. The devised movement techniques of the Frantic Method played a large role in the staging of "And the Word Became Flesh: A Re-Imagining of the Gospel According to John," opening November 15.
India-Jane Grimsley, a senior theater performance student, is one actress of three portraying Jesus in the show. As a junior last year, Grimsley requested for her senior capstone show to be something heavy in devised movement and was pleased to find out Director Brent Maddox, associate professor of theater and dance, picked "And the Word Became Flesh."
Maddox had seen a one-man version of the "Gospel of John," and it became a passion project for him to bring a group of people together who were very interested in movement. A devised theater piece starts with an idea, and for Maddox that was the Gospel of John. He wanted a cast that would be sensitive to the material and take their time with the piece, but also approach it in a storytelling manner.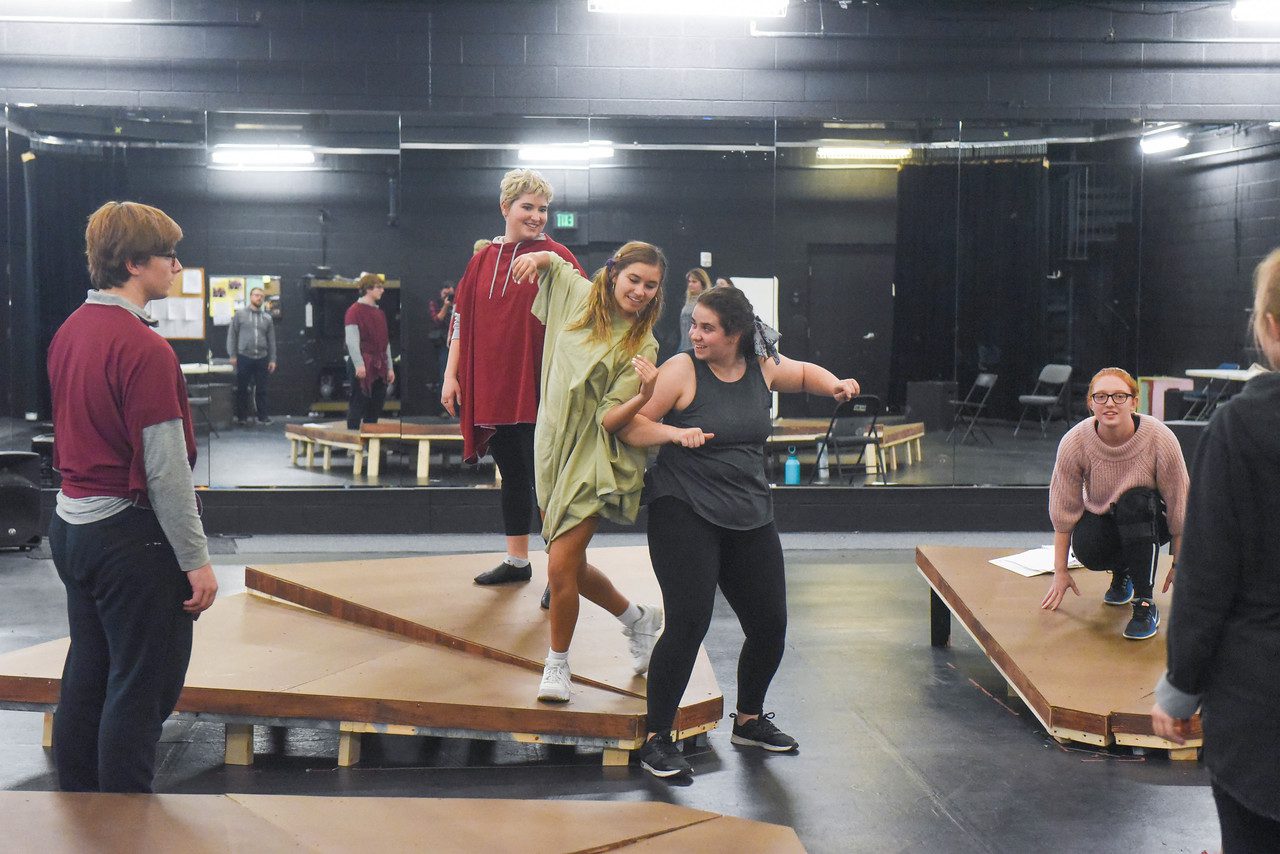 The students played a major role in putting the show together, especially through the movement aspect. Grimsley said, "Something we talked a lot about was not wanting this to be a 'fluff' piece. We didn't want it to be corny or look like what you might expect it to look like," she explained. "For example, we didn't want to use theater magic to turn water into wine; instead, we wanted to use something more abstract and universal to communicate that idea because it's more interesting. People have seen movies where Jesus turns water into wine, but using the Frantic Method to convey that is special and unique to live theater. It's more magical in my opinion."
Breanna Theobald, another senior theater performance major, echoed that idea. "With the miracles, we didn't want to do them literally; we wanted to find out what the core message of that miracle was so that the audience can understand it better and also relate to it. The Frantic Method is helping us not to just find the literal message, but to discover the deeper meaning behind each of the signs and the miracles," she said.
Two representatives from The Frantic Assembly in England, Richard James-Neale and Paulo Guidi, held three extensive workshops on campus earlier this fall for all of Belmont's theater performance majors. The cast of "And the Word Became Flesh" observed the first two sessions and participated as a group in the third to really focus on how they could apply the lessons to their show. They also had the opportunity to have lunch with the instructors and talk more about their methodology.
With Movement Theater, actors find ways to support or tell the story with their bodies; it's not dance necessarily but a form of storytelling. The Frantic Method is a theater technique that starts with a "task" and adds on "rules" to help the players tell a story with devised movements. For example, this cast in particular had to figure out a way to illustrate the miracle of the feeding of the 5,000 with their bodies.
The simple task in that scenario is to pick up a basket, take it to the audience and come back to the actor portraying Jesus, Erik Hylko, for another basket. The rules might include only taking baskets to audience members on outside rows or having to sit down after putting a basket down. Maddox would give the cast one rule, they would try it and then add on more and more rules until the illustration became clear and more crystalized so the audience could easily understand the bigger picture.
Theobald has always been interested in movement theory but was never exposed to it until she came to Belmont. "I remember being in movement classes with Brent [Maddox] my freshman year and realizing it is the kind of theater I really like to do. Movement has also showed me that people are much more capable than they realize," she said. "I've never done a lift before in my life, and now I'm in a couple different lifts in the show. It's pushing us all out of our comfort zones in the best possible way, which will help all of us make bigger, bolder choices while we trust our bodies and trust what we can bring to the table in the future."
This method, Grimsley agreed, is a skillset that students will be able to use in their careers forever. "It's out of this world that we were able to get this experience with Frantic Assembly. In the real world when you have to bring in a movement piece—that can be a daunting task, but we learned how to devise these pieces. Adding a Frantic workshop to my resume is certainly not going to hurt either."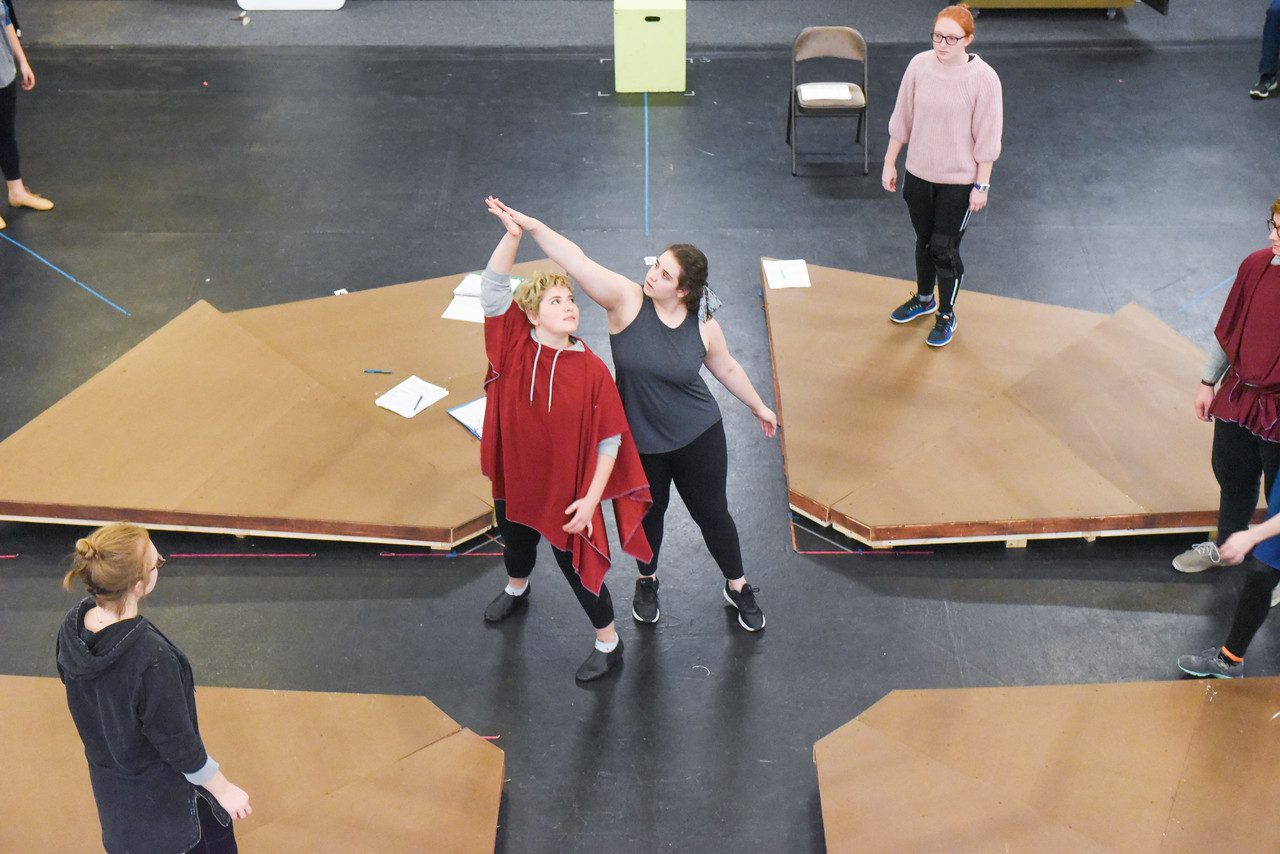 The show has challenged the students through its use of Biblical language, parables and many perspectives. Some of the cast is playing seven or eight different characters, so the intonations and movements are more important than ever to help distinguish each one.
Trying to humanize these characters and capturing each of their different viewpoints is something Theobold said pushed the cast to use their whole bodies and "stay out of their heads." "What's nice about the Frantic Method is that it's so simple. A lot of the time we overthink things, and what's wonderful about the Frantic Method is that if you approach movement from a non-complicated way, more things will come out of you. Your natural impulses will arise from these simple tasks you're doing. It has helped open all of us up to all these possibilities we didn't realize before," she said.
Both of the student actresses agreed their hope for the show is to make the audience feel something and come away being surprised from seeing the story in a new light. Through this re-imagining of the story, the cast hopes to bring John's entire gospel to vivid life in an unforgettable, uplifting story of hope and love for everyone. Experiencing John's gospel in this unique way has the power to touch lives and transform the world with disciplined intelligence, compassion, courage and enriched faith.
The show runs November 15 – 23 in the Belmont Black Box Theater. View show times and purchase tickets here.