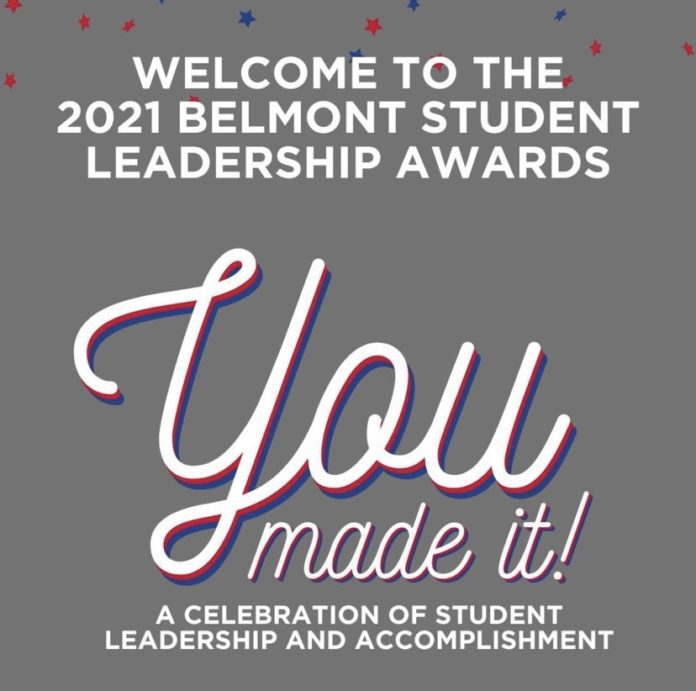 The 2021 Belmont Student Leadership Awards took place via the @BelmontU and @Belmonttoday Instagram account stories as "a celebration of student leadership and accomplishment," on Wednesday, April 7. The virtual award show experience was hosted by Joe Mankowski, director of the Department of Fitness and Recreation, who introduced and congratulated each award-winner.
This year's award show theme, "You Made It," highlights the accomplishment of students for completing a full academic year in spite of the pandemic. Dr. AdriAnne Sternberg, dean and director of Student Leadership shared, "We wanted to celebrate the fact that not only did our students make it through the year, but they also accomplished so many great things along the way."
Each award was announced through a graphic design that was posted to Belmont's Instagram. The categories included the Aspiring Leader Awards, Emergent Leader Awards, Student Organization and Activities Awards, Tower Award and the Bruin Award.
"It is so inspiring to recognize students who, in the face of everything, committed to investing in themselves, their organizations and their campus. I know I speak on behalf of the Leadership Awards committee (and I imagine on behalf of the whole campus community) when I say thank you to all of our students and we can't wait to see your continued success in the years to come," shared Sternberg.
A complete list of award winners can be found below.
Award Categories
Recipient(s)
Student Affairs (General)
Tower Award
Heather Daughtery
Bruin Award
Avery Goodwin
Cailyn Currie
Jacob Storey
Jasmine Meriweather
Marcus Knight
Max Baker
Michaela Odian
Michelle Dong
Sam Traxel
Savannah Land
BOLD Levels
Aspiring Leader Award
Andrew Estrada
Anna Biondi
Bailey Smith
Emma Wells
Kate Ward
Nardien Sadik
Emergent Leader Award
Brigham Finch
DJ Needs
Jared Carwile
Samantha Urban
Student Organization and Activities Award
New Student Organization of the Year
Strong Women in The Making (S.W.I.M.)
Student Organization Advisor of the Year
Dr. Amy Crook
Student Organization Member of the Year
Alex Hernandez – Belmont Bridge Builders
Zaid Hatem – Student Government Association
Gabriella Cannone – Belmont Legal and Society
Antionedra Maupin – Black Student Association
Aidan Riordan – Belmont Kite Club
Chloe Vaughn – Tennessee Intercollegiate Student Legislature
Raquel Cato – College of Law Black Law Student Association
Maddi Landis – United Nations Association at Belmont
Evabeth Ellis – Navigators
Cara Kim – Asian American Association
Ben Carter – Best Buddies Belmont
Titus Cody – Black Student Association
Sanyourah El-Hulu – Women in Science
Joel Engelhardt – Belmont Student Activities Programming Board
Genevieve Delano – Public Health Student Association
Jade Ryan Hollister – Alpha Gamma Delta
Student Organization of the Year
Student Programming Activities Board (S.A.P.B.)