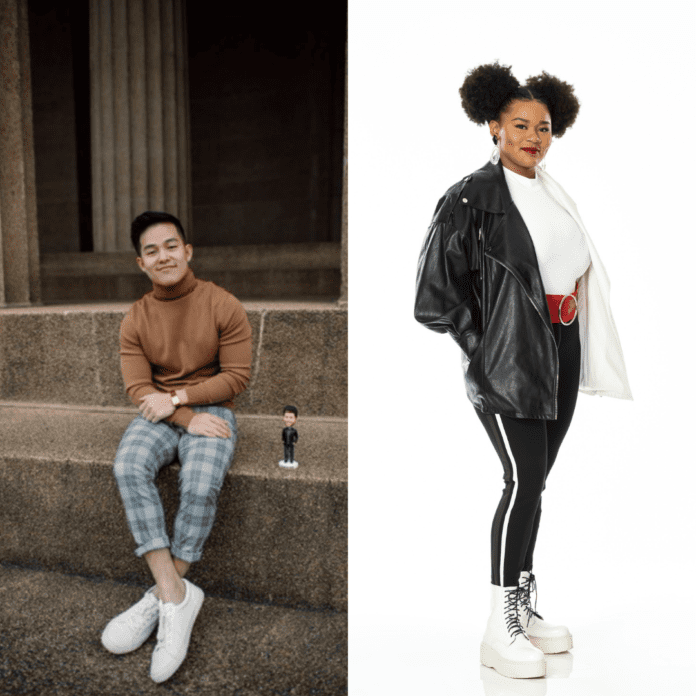 Belmont is always brimming with talented students destined for success and dripping with creativity, so it is no surprise that two representatives recently performed on this season of NBC's "The Voice." Denisha Dalton from Warwick, NY is a May 2020 Belmont music business alumna with a legal emphasis, and Keegan Ferrell from Fort Wayne, IN is currently a junior music business major with an emphasis in production. Both "Voice" contestants were successful at the blind auditions a few weeks ago and chose one of the four music coaches to continue mentoring them through the season.
Dalton, who joined team John Legend at her audition, has been auditioning for the show since she was 15 years old, staying persistent in her dream. This year, "The Voice" producers reached out to her and asked her to audition for the show where she performed ZAYN's "Pillowtalk" and stunned coaches Blake Shelton, Kelly Clarkson and her current mentor, John Legend, enough to turn their chairs around.
When Dalton received the call from her casting producer to move to the in-person auditions, she was excited to receive the opportunity. After her performance, Legend offered the chance for Dalton to fill his very last spot on his team which initiated her final decision. "The fact that John gave me that energy and he turned for me to fill his very last spot made me lean that way," Dalton shared.
While working with Legend was incredibly rewarding, Dalton also expressed her excitement to work with and be mentored by American singer-songwriter Brandy, also recognized as "the vocal bible" due to her various talents as a musician. She shared that the whole experience of learning from Legend and other incredible artists is a dream come true.
During her battle performance this past week, Dalton performed Canadian singer-songwriter Tate McRae's, "You Broke Me First," alongside her battle partner Ciana Pelekai. "You both come to this experience with so much positivity and such great energy and I do love that both of you take vocal risks with your performance," shared Legend. Unfortunately, Dalton did not make it through to the next round but will continue to pursue her music career outside of "The Voice."
"Regardless of what happens on the show, I just want my music to do for others what it's always done for me. I want to make others feel like they can be their most vulnerable, authentic selves when they're listening to my music and my voice," said Dalton. "'The Voice' is definitely a great stepping stone to get to where I'm going, and I'm excited for everyone to join me on my journey on and off the show."
Belmont junior and "Voice" contestant Ferrell grew up watching "The Voice' with his family who always joked about him one day making it to the show. Little did they know how that dream would become a reality for their son when he was contacted by "The Voice" asking him if he was interested in starting the process to audition last year. Knowing that the opportunity was too good to pass up, Ferrell started the audition process through a series of virtual auditions. 
Ferrell auditioned with Maroon 5's "She Will Be Loved," choosing a song that everyone knows and loves, but that also felt relatable to him as a performer. "People can tell if the words and song you sing are authentic when you're performing," explained Ferrell.
With the decision process being commenced on the spot, each contestant is unaware of the coaches they can choose before going into the audition. Ferrell shared that he went in with an open mind and few expectations so that he could trust his instincts in the moment and make the right decision based on what each judge said.
Ferrell shared how much of an honor and a privilege it was to not only be asked to fill the last spot on country music artist Blake Shelton's team, but also to be coached by a musician who has been highly successful as a songwriter and artist not just in Nashville, but globally. Ferrell shared that throughout his time on the show, he has already created a bond that will live far beyond the season and is excited to soak up all the wisdom, inspiration and experience that this opportunity has to offer.
However, after this week's Battle Rounds Night One, Ferrell was stolen from team Shelton by judge Nick Jonas, current band member of the Jonas Brothers. After performing American rock band Train's, "Calling All Angels," alongside Voice contestant Jordan Matthew Young, Jonas used his one and only steal to continue Ferrell's journey on the show as his mentor. "Knowing that you love music production means that you're a hard worker, so I'm excited to work with you," expressed Jonas.
Tune in next Monday, April 12 at 7 p.m. CT on NBC to see Ferrell continue on his journey on "The Voice."