The Belmont community pitched in to assemble extra Cold Weather Patrol emergency kits for Nashville's Office of Emergency Management (OEM). Rusty King, production and facilities manager in the School of Music, has been a volunteer for the Nashville Office of Emergency Management's Emergency Support Unit (ESU) for the past five years and saw a need for more tool kits this winter. He quickly recruited servant-hearted faculty, staff and students at Belmont to help with the labor in assisting the greater Nashville community. 
The Emergency Support Unit is comprised of six to eight squads with more than 50 volunteers who donate their time to check on homeless camps all over Davidson county on the coldest nights. During the patrols, volunteers ask about health and wellness, offer transport to warming shelters and distribute items such as blankets, water bottles and Gatorade. 
Three years ago, King was approached by Dr. Terry Klefstad, associate professor in the School of Music, as her children were assembling packages with hand-warmers, socks, wipes and packaged food to pass out to people in need on the streets of Nashville. King and Klefstad quickly found a way to collaborate, and the first winter, Klefstad and her family made 100 of the convenience kits for the Cold Weather Patrols to distribute. The kits became known as the "Belmont Convenience Kits."
This year, King and Klefstad needed more help to assemble the packages and used their resources at Belmont to accomplish this task. Serving as the faculty advisor for the music sorority Sigma Alpha Iota and the music fraternity Phi Mu Alpha, Klefstad and King presented this volunteer opportunity to safely assemble boxes with items provided by University Ministries. The Belmont students packaged together 300 Belmont Convenience Kits that were distributed to homeless communities in the midst of Nashville's snowstorm.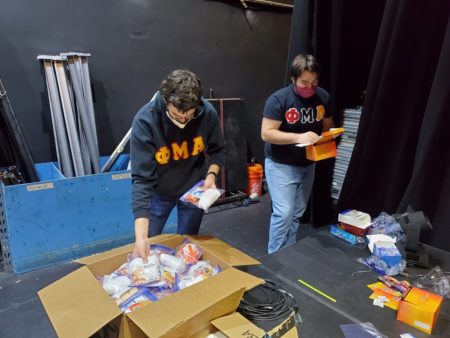 "I'm really proud that Belmont supports our individual missions to serve our communities. If a Belmont family is involved in a crisis anywhere on this globe, there is someone we know that can reach out to help 'Be Belmont' to them," shared King.
In the past three years, King has become corporal over Squad 3 and continues to spend his spare time volunteering with OEM in the ESU. "I'm blessed to be a part of a team that consistently trains to go into mostly bad situations, does a job well, and helps bring some comfort to our larger community in need," shared King.
Other news sources in Nashville have noticed Belmont and King's great efforts alongside the OEM (read news story here).