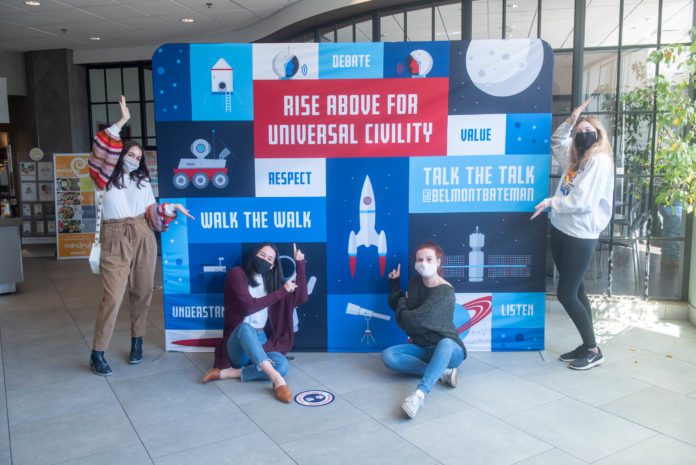 Belmont University's 2020-2021 Bateman Team recently revealed a mural on campus in honor of their public relations campaign focused on civil discourse. Working over the course of a year to put on a campaign, the team worked in collaboration with Belmont's Graphic Designer Erica Belletete and administration to produce the final product.
Each year PRSA puts on a competition where Bateman student organizations nation-wide are presented with a client that teams promote through conducting a month-long public relations campaign. Each team moves through the research, planning, implementation and evaluation phase of the campaign with a winner for most successful campaign announced by PRSA headquarters later in the spring.
This year's Bateman team's campaign is called 'Rise Above for Universal Civility' where the team is emphasizing the importance of engaging in conversations with the approach to understanding. The team of five is hosting several events between February 8 to March 8, where other students and emerging professionals can participate.
This year's Belmont team consists of five members: Emma dela Pena as social media and writing specialist, Rileigh Skelton as strategic planning specialist, Abigail Roering as community outreach specialist, Molly Barresi as research specialist and Elizabeth Phillips as design specialist.
The team shared that the mural is a chance for them and other students to "create a legacy at Belmont." Design Specialist Elizabeth Phillips said, "The mural is a representation of what students value in this period of our lives. We want everyone to feel safe on campus and its promotion of civility, diversity and inclusion really embodies that."
Roering shared the explanation of the design approach, saying that "many of the visual elements reflect duality and how two ideas can coexist even if they are opposites. The colors, the space motif and the comic-book style panels all allude to the overarching theme of everyday civility. Quite literally, our astronauts can rise above the toxicity often found in uncivil conversation so that they can truly 'talk the talk.'"
The Bateman team is encouraging students and professionals alike to sign the pledge and commit to encouraging civil discourse in their communities. "Our hope is that our campaign encourages everyone to take matters of civil discourse into their own hands, to claim that responsibility as their own and share it with the communities of which they are part," Roering shared.
"No matter who you are, we want to make this a safe place for you to discuss your big ideas and strong opinions," Phillips shared.
The mural was released on Friday, Feb. 19 in the Belmont's on-campus dining hall and will be moved several times to other spots on campus for students to find and take pictures with it. The team also has several events for students to learn and participate in the campaign located on their website.