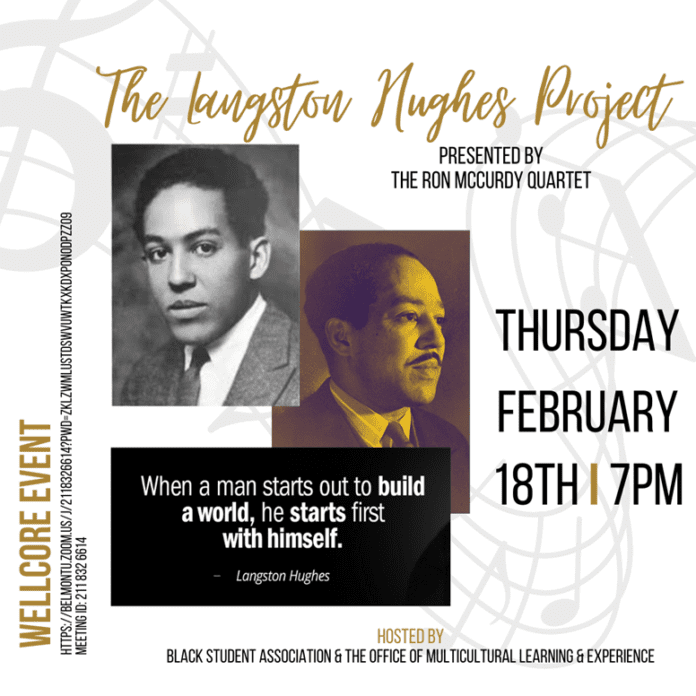 As a part of Belmont's continued celebration of Black History Month, the University brought in guest speaker, educator and quartet member Ron McCurdy to put on his performance of the Langston Hughes Project, a multimedia concert performance of Langston Hughes' kaleidoscopic Jazz poem suite, "Ask Your Mama: 12 Moods for Jazz."
Langston Hughes, a graduate of Lincoln University and member of a historically black fraternity, is remembered for being a popular activist during the Harlem Renaissance. Hughes wrote "Ask Your Mama" as a response to riots and incidents at the Newport Jazz Festival. In McCurdy's performance, he puts a spin on this poem to further educate viewers about significant people, places and events of the Harlem Renaissance. 
McCurdy is currently a professor of music in the Thornton School of Music at the University of Southern California and was previously president of the International Association for Jazz Education. He has released two CDs, been published by Warner Bros and serves as the director of the Walt Disney All-American College Band and the of the National Grammy Vocal Jazz Ensemble and combo. 
The event at Belmont was put on by the Black Student Association and the Office of Multicultural Learning and Experience on February 18. The event started with the president of the BSA introducing McCurdy who then gave background on the Langston Hughes project and shared some words of wisdom to the students and faculty. 
McCurdy began by sharing the words of Langston Hughes that were written more than a century ago, yet are still important today and have helped the country heal after experiencing discrimination that is so evidently shown through tragedies such as the murder of George Floyd.
He remembered previous activists in his presentation, encouraging students and faculty to stand up for what they believe in now rather than later. "My grandmother always told me that if you don't stand for anything, you'll fall for anything," said McCurdy as he reminded the audience that there's no age to being passionate about something. 
The night continued with a performance by the Ron McCurdy Quartet where McCurdy himself challenged the audience to ask themselves "what can I do individually or collectively to ensure that we as Americans can live up to the declaration 'we hold these truths to be self-evident that all men are created equal?'"
The night ended with an opening for questions and discussions on the event while the chat system was flooded with kind comments about the significance and value of the event for the University.
The Ron McCurdy performance and more can be found at the Langston Hughes Project. Belmont University will have events for Black History Month through the end of February and more details can be found here.