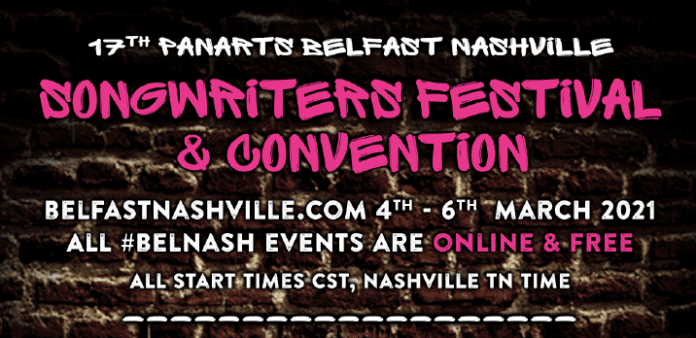 Belmont songwriting students Sydnee Conley, Max Woolery, SJ McDonald and Phoebe Scott are competing in the annual Belfast Nashville Songwriters Festival which will take place on March 5. Due to the pandemic travel restrictions, the festival will be held virtually this year with activities starting through their website on March 4.
The partnership between Belmont Songwriting and the Belfast Nashville Songwriters Festival began in 2016 when Department Chair James Elliott led a Spring Break trip to Belfast where students performed at the festival. Belmont Songwriting faculty Drew Ramsey, Jodi Marr and Thomm Jutz will also be a part of the festival by teaching songwriting workshops prior to the festival.  
One of the highlights of the festival for Northern Ireland songwriters is that most years a select group of them come to Nashville the week after the event to perform and meet with industry leaders. Since 2016, part of those trips has been a performance in the Curb Café and visits with Belmont songwriting faculty and students.
The Panarts Director Colin Magee shared, "We are so pleased that our partnership with Belmont continues to grow, even in these difficult times. Our hope for the future is that we can meet up in person next year in both Belfast and Nashville to continue the important work of encouraging young people to be creative and to write great songs."
All of their performances have been pre-recorded and will be on the festival website at the scheduled times.