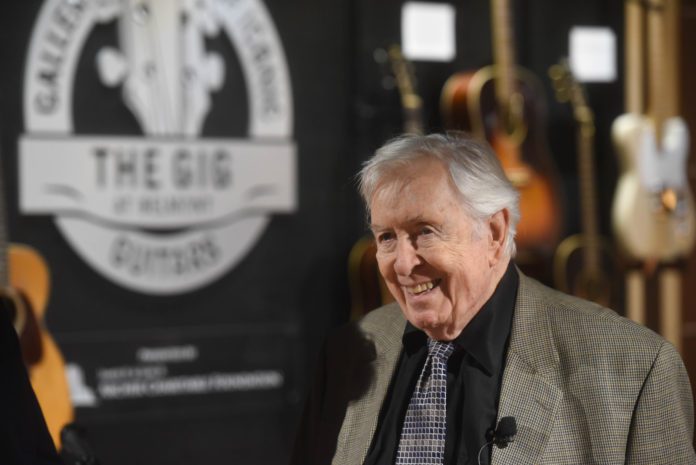 Belmont is saddened to share that former faculty member and successful musician, Dr. William Pursell, passed away at age 94. Pursell began working at Belmont in 1980 and continued to teach for the university for 37 years. He was named Professor Emeritus of Music when he retired from Belmont in 2017.
Pursell's consistent guidance and wisdom to student musicians will always be remembered. Dean of Belmont's College of Music and Performing Arts Dr. Stephen Eaves shared, "Pursell had a huge impact in Nashville and at Belmont during his 37 years of service. He was a brilliant musician and an inspiration to his students and colleagues. We will focus on our fond memories of Bill and the opportunity to be a part of his rich and vibrant life."
More recently, Pursell was on campus last fall for a conversation with Dr. Terry Klefstad, associate professor and author of "Crooked River City: The Musical Life of Nashville's William Pursell" as a wrap up to events around the Ken Burns' documentary "Country Music."
"Bill was a wonderful colleague and friend, and the world is a much smaller place without him," said Dr. Klefstad. "I will miss our long conversations and his stories about his friends in the music business. His friends included country musicians, rock musicians, jazz musicians and classical musicians. He was completely at ease with any style of music and could improvise anything on the spot. He was also a gifted composer and arranger. Musicians like him are rare indeed."
Born in California, Pursell was signed as a solo artist just two years after moving to Nashville. His 1963 rendition of "Our Winter Love" became one of the biggest-selling records of that year, reaching the top 10 on the Billboard Hot 100. Pursell was also a two-time Grammy-nominated composer and was named Composer of the Year in 1985 by the Tennessee Music Teachers Association. Throughout the rest of his life, Pursell worked as a pianist for many well-known artists.
Tributes to his life, his work and his success have shown up all over the country, including reports by The Hollywood Reporter, Billboard and NBC.
Former students have also shared countless posts on the impact Pursell had on their lives, including the ones below.
Alumnus Kyle Pudenz shared, "I was fortunate enough to get to perform with Dr. Pursell when he was a soloist with the University Symphony Orchestra, as well as study in his History of Commerical Music class. He would never fail to bring the whole class to laughter every time he would sit down at the piano to demonstrate a tune, haphazardly throw down some kind of unbelievable lick that no one in the room could have even attempted, and then just brush it off with this characteristic 'yeah, whatever…' Even at 80+ years old, the man could work a piano in ways that few folks will ever grasp, and his wealth of stories from working in the studios during the rise of the Nashville sound were an inspiration to all of us trying to cut our teeth on our first gigs in town. He will be missed by so many of us in the Belmont community, and I'm so grateful to have learned from him during his time on Earth."
Alumnus Josh McClellan shared, "Bill was a living vestige of old Nashville: a sharp-minded and clean person with a relentless wit and charming sensibility that ultimately came out in his playing no matter if it was someone else's music or his own. He never hesitated to hand out critiques along the lines of, 'Well I hate to say it, but this just won't work that way. It just won't, but try writing it again this way. I'm pretty sure this is what you wanted.' But, after any student came back with corrections, he was just as quick to offer elaborate, joy-filled praises such as 'Wow! I tell you what, you really nailed it! That's exactly it!'"
Belmont alumna Shelby Blalock shared, "Dr. Pursell was not only a musical legend, but an incredibly kind person and a wonderful teacher that I had the pleasure to learn from at Belmont. I'll never forget how, in his orchestration and 'Music Since 1900' classes, he would sprinkle in his stories of first-person encounters with some of the composers we were studying. And even more, how he would get genuinely excited to hear what his students had composed for each assignment – it was clear that he truly loved to help young musicians hone their craft."
In lieu of flowers, donations can be made to The Belmont University School of Music William Whitney Pursell Scholarship in Composition. Please call 615-460-6408 to donate.