New and former Bruins have started to safely move back to campus as the University begins the transition to HyFlex, in-person courses. The student body and administration are excited to welcome in new students and see campus become more lively. Throughout this next weekend, Belmont students will be welcoming back more of their peers and assisting with their move onto campus.
As Belmont greets returning students, they also prioritize making the move-in process for first-year students as seamless as possible. Senior Orientation Council leader Jackson Wallace shared how exciting it is to see reunions among the student body through move-in. "The move-in process has been so much fun! It is such a special way to welcome our new students, and I can't think of a better way for everyone involved to finally reunite on campus after being gone for so long," he said.
New to campus, Bailey Coleman shared that, "This has probably been the most tiring, yet exciting week of my life. It has been so fun to finally meet my fellow classmates and online friends in person!"
While the University's campus begins to see more activity, safety and health are still the utmost priority. Social distancing and masks are required on campus, and students have been adjusting to smaller class sizes, dining hall precautions and sanitization stations.
Sophomore Holli Riddle said, "I think Belmont is doing a great job with their safety precautions. It's such a weird time for everyone, but Belmont has adjusted so well to the craziness."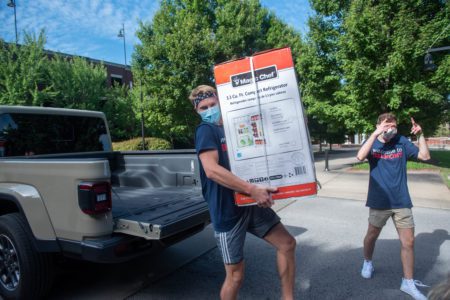 Belmont is committed to students' safety while also providing in-person classes and opportunities so students can move forward with their fall semster.
Welcome back Bruins!