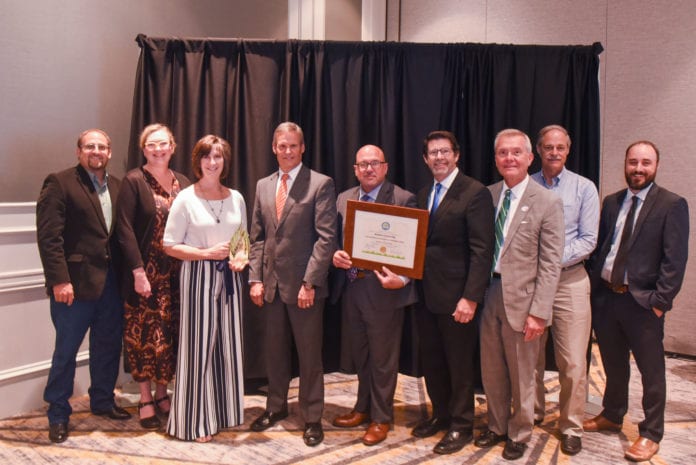 Belmont is one of nine recipients of the 2019 Governor's Environmental Stewardship Awards, announced by Tennessee Gov. Bill Lee and Tennessee Department of Environment and Conservation Commissioner David Salyers.
The Governor's Environmental Stewardship Awards program recognizes exceptional voluntary actions that improve or protect the environment and natural resources with projects or initiatives not required by law or regulation.
Belmont has taken the initiative and made major sustainability commitments to make its campus as sustainable as possible. The University was a 2016 Governor's Environmental Stewardship Award winner in the building green category for the Janet Ayers Academic Center and a 2017 winner in the sustainable performance category for the Johnson Building. This year, the University is a winner in the Pursuit of Excellence category, which recognizes past award winners who continue to demonstrate a high regard for environmental stewardship.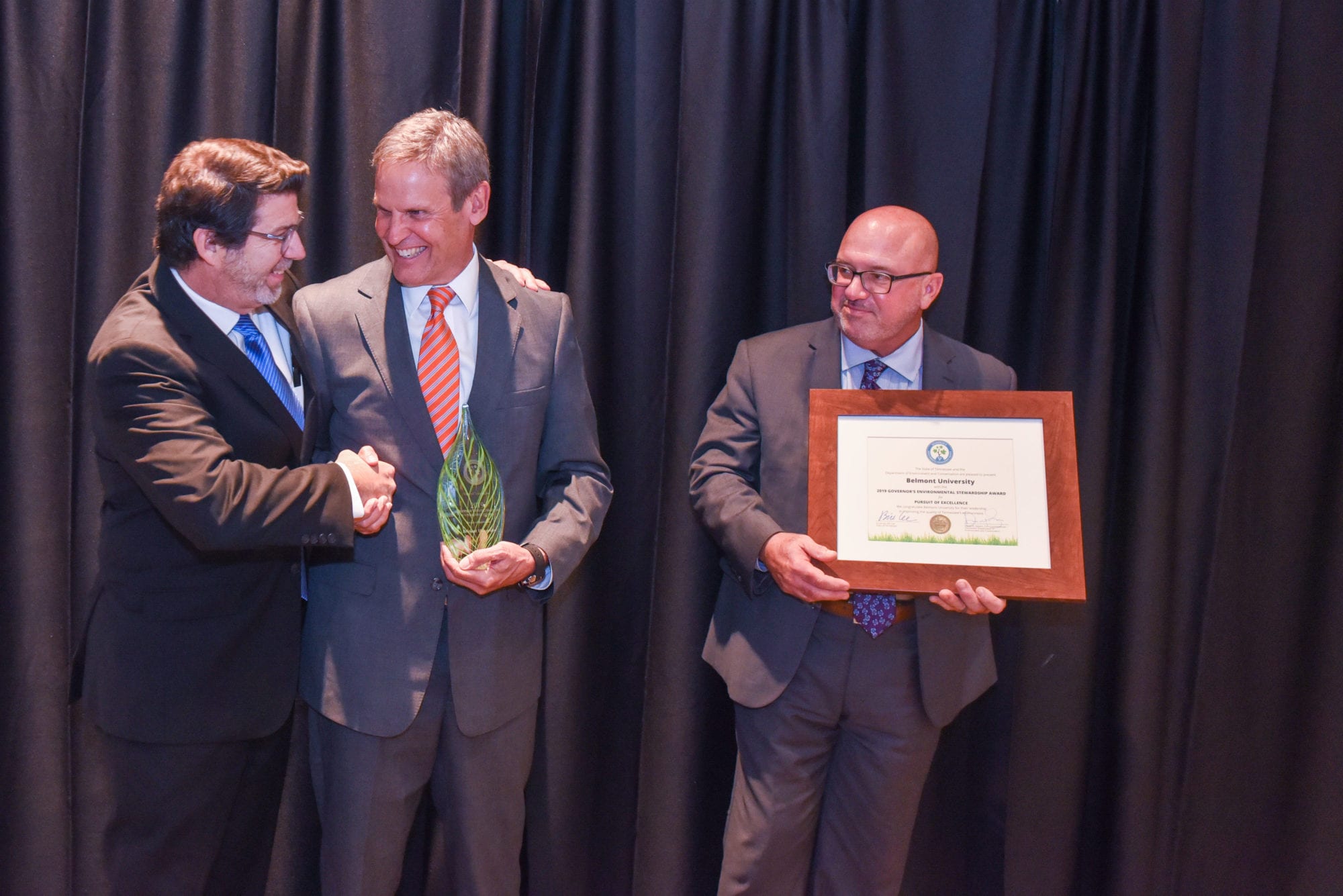 Vice President of Finance & Operations Steve Lasley said conservation and sustainable practices are incorporated into every new and old building on campus. "Faculty, staff and students at Belmont continuously look for new and innovative ways to include a commitment to conservation and sustainability in all areas of campus life," he said. "Belmont offers students several ways to explore and express their passions through academic research in the classroom, service opportunities such as local clean-ups and planting trees, as well as several sustainability and environmental clubs."
Since winning GESA awards in 2016 and 2017, the university has continued to make sustainability a significant focus through education and service learning, sustainable construction projects, energy efficiency retrofits and the installation of a 250 kW photovoltaic solar array on the Curb Event Center.
Belmont recently completed construction of a 243,000-square-foot building on campus, making it the fourth LEED certified building. Most existing buildings now have LED lighting and web-based controls installed throughout, which utilize stand-alone sensors to turn lights on/off automatically. Many of Belmont's parking garages are underground in order to avoid contributing to the urban heat island effect in the area, while also preserving green space around campus.
Fourteen green roofs across five buildings serve as gardens for native plant and bug species, including two honeybee hives, lawn and green spaces and serve as outdoor laboratories for biology and environment science research. The University is designated as an arboretum, featuring more than 100 species of trees and shrubs, as well as being recognized as a Tree Campus USA by the Arbor Foundation.
Other winners include The Compost Fairy, Cumberland International, Cumberland River Compact, Mitchell Heights Neighborhood Association, Norris Water Commission, Ruby Falls, Tennsco Corporation, Turnip Green Creative Reuse and Urban Green Lab. The winners will be formally recognized for their achievements and positive impact on the state's natural resources and communities in an awards ceremony in Franklin on August 1. The Robert Sparks Walker Lifetime Achievement award will also be announced at the awards ceremony.
"We applaud those who proactively look internally at their own operations and capabilities to better our environment," Lee said. "Tennessee is fortunate to have these passionate and innovative organizations committed to improving our state."
A panel of 16 professionals representing agricultural, conservation, forestry, environmental and academic professionals judged more than 65 nominations and selected this year's award recipients based on criteria including on-the-ground environmental achievement, innovation, transferability, partnerships and public education.
"The projects and organizations recognized by this year's Governor's Environmental Stewardship Awards reflect the best of environmental protection, conservation, community engagement and partnerships," Salyers said. "These award winners are taking the initiative to go above and beyond what is required."
In its 33rd year, the awards program covers nine categories: building green; clean air; energy and renewable resources; environmental education and outreach; environmental education and outreach (school category); land use; materials management; natural heritage; and sustainable performance.
For more information, visit the Tennessee Department of Environment and Conservation website.