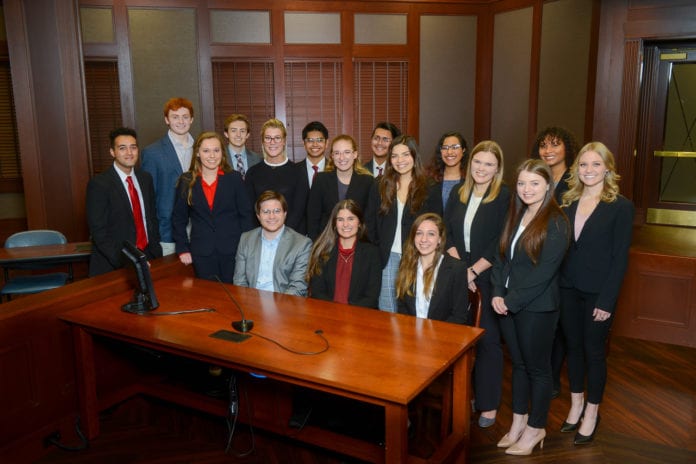 Belmont University's Undergraduate Mock Trial Team A recently took third place out of 18 teams in the Blues City Scrimmage held in Memphis at Rhodes College. The A team, made up of nine students, won six of eight ballots defeating teams from across the southern region. Sarah Lancaster and Madeleine Westrup were named team MVP's, and Aubrey Keller and Sarah Lancaster were named Best Witnesses.
Following the victory in Memphis, Belmont's teams traveled to Murfreesboro for the MTSU Annual Mid-South Invitational Mock Trial Tournament. There, Elizabeth Sutphin was recognized as best attorney.
"As we begin another season of Mock Trial competitions, it is so inspiring to see the incredible potential these teams have," said Elizabeth Sutphin, sophomore global leadership studies and corporate communications major, honors student and member of Team A. "From returning members to new students entering the courtroom for the first time, we have already seen so much growth and achievement this semester as a group, which would not be possible without the dedication of our wonderful coach, Summer Melton. Looking forward to the American Mock Trial Association (AMTA) competitions in the spring, I am beyond excited to see how this little family continues to grow and accomplish great things."

Kevin Botros, junior political science and philosophy major and honors student, said the teams have worked well together, and he hopes to advance from the successes of last year. "This year's team is a mixture of first-year Mock Trial competitors and returning competitors from last year. We are looking forward to picking up where we left off last season by advancing past regionals and opening round championships, and finally reaching nationals for the first time in our school history."

The Undergraduate Mock Trial teams are coached by Adjunct Professor and Attorney Summer Melton, a Belmont College of Law graduate. She is teaching team members in a pilot course, Undergraduate Pre-Trial Procedure, and coaching them as they prepare for the Regional AMTA competition in February 2020.
"As a coach, there's only so much I can do to prepare my students," said Melton. "It's on them to listen, practice and work together. Time and time again, they shine. They continue to show that they love what they're doing and they want to be the best. I couldn't be more proud."
Mock Trial at Belmont is part of the student-led, Pre-Law Society. Its interdisciplinary team includes members from five colleges on campus. Team A, whose members returned from last year, includes Kevin Botros, political science and philosophy double major and honors program; Gordon Carroll, politics and public law major; Kaleb Gille, motion pictures major; Aubrey Keller, english major and honors program; Sarah Lancaster, motion pictures major; Hunter Lindsey, politics and public law major; Carmen Mendez, legal studies major; Sarah Anne Pfitzer, english major and honors program; and Elizabeth Sutphin, global leadership studies and corporate communications double major and honors program.
Team B includes Brian Demmons, legal studies major; Sophie Fajardo, music business and entrepreneurship double major; Amando Jimenez, economics major; Isabella Kaufman, political science and history major; Alyssa Powell, political science major; Cheyenne Robertson, legal studies major; Raelyn Stuart, commercial voice major; and Madeleine Westrup, music business major.

AMTA serves as the governing body for intercollegiate mock trial competition. Through engaging in trial simulations in competition with teams from other institutions, students develop critical thinking and public speaking skills, as well as a knowledge of legal practices and procedures. AMTA sponsors regional and national-level competitions, as well as providing interesting and complex case materials for academic use.

Belmont's team relies on SGA grant funding, private contributions and is partially sponsored by Interdisciplinary Studies and Global Education.