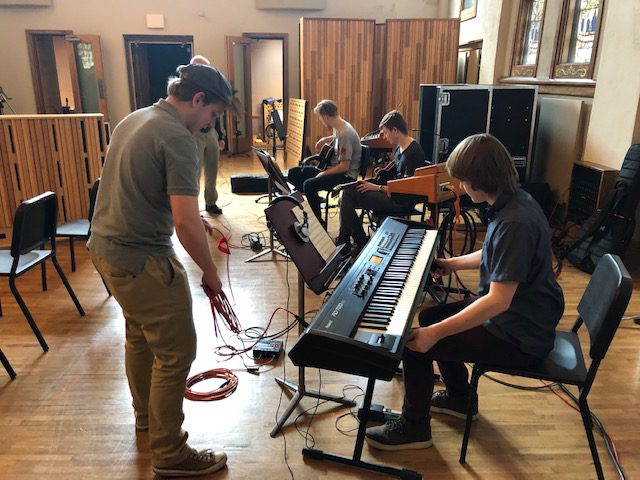 Belmont University's Jazz Band 1 and vocal jazz ensemble group, Jazzmin, recently recorded "Little Sunflower" by Freddie Hubbard in Ocean Way recording studio. The piece was recognized in the Downbeat Magazine Competition as the Graduate College Winner for Studio Orchestra.
David Weinsten, the arranger of the piece, is a graduate students in Belmont's commercial music program. Chris Baldani, a graduate student in the audio engineering program, served as the sound engineer for the recording. The piece was recorded for an annual contest put on by Downbeat Magazine, one of the top Jazz magazines in the country. Other competing schools include Berklee College of Music, University of Miami, University of North Texas and University of Northern Colorado, among others.
Dr. Jeff Kirk, Jazz Band 1 director, said Belmont has entered the contest before but has never done a recording with the jazz band and vocal ensemble. "That was new and exciting. This was an educational experience that utilized every aspect of our program," he said.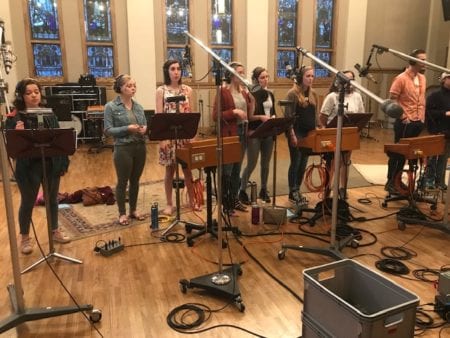 "I wanted to give the School of Music students an opportunity to record in a world-class facility. The experience was a unique combination of Belmont ensembles, recording a song that was arranged and produced by a Belmont student and recorded in Belmont's world-class recording studio: Ocean Way. Not many schools are able to do that."
Listen to "Little Sunflower" here.