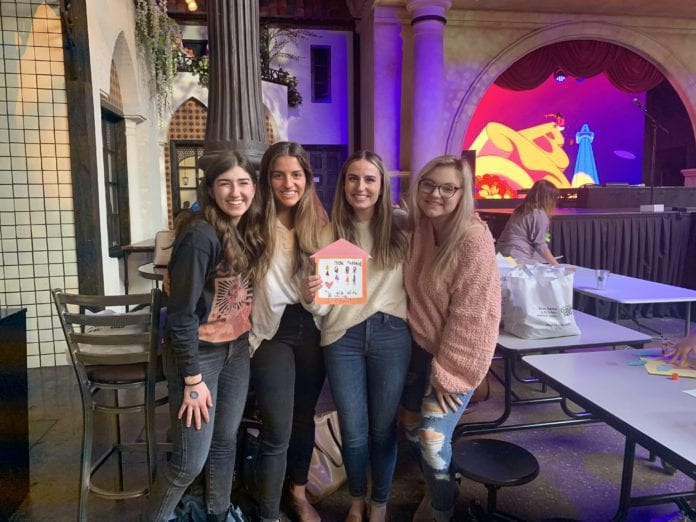 As part of this year's Bateman Team, senior public relations majors Morgan James, Sarah Beth Crowe, Allie Mena and junior Shelby Cage were charged by the Public Relations Student Society of America to create a campaign for the the U.S. Census Bureau. The campaign was titled, "Shape Belmont and Nashville's Future," and received honorable mention by PRSSA Headquarters. Out of 57 entries, Belmont's Bateman Team was one of just 14 teams to receive this national recognition.
The goal of the campaign was to help Nashville achieve a complete and accurate count in the 2020 Census by providing the team's target audiences with education on how to complete the census and how census data impacts their communities.
Establishing these initiatives within Belmont University and Nashville/Davidson County furthered people's understanding of the importance of the census. The campaign directly engaged college students and caretakers of children aged 0-4 specifically on how the census affects them and encouraging them to respond. Responses to the 2020 Census affects Nashville/Davidson County for the next 10 years and beyond.
"Working as a member of the Bateman Team definitely has made me appreciate a collaborative space and team," explained James. "Being able to bounce idea off of each other, have someone there to proofread materials and help with things has been so great. Knowing when you can't take on any more and being able to admit that and have someone help you is so valuable."
During the fall semester, the Bateman Team worked on gathering secondary research and conducting primary research to inform their efforts and develop a campaign summary. The second semester was dedicated to implementing the campaign. The team performed various tasks including designing Canva graphics for social media, deciphering survey data, writing up proclamations and press releases, among other things.
With the COVID-19 pandemic and the tornado disaster in March, the Bateman Team faced unanticipated challenges in implementing the campaign.
Mena said, "Due to the tornado devastation and COVID-19, more than two weeks of our implementation period was stripped from us. It would have been easier to quit there and turn in an incomplete campaign. Instead, we worked long days and nights to reorganize our campaign tactics and were able to produce a complete campaign that we are beyond proud of."
Following the implementation of the campaign, the team is currently working on final revisions before submitting the campaign report in its entirety.
"Both of these events had a significant impact on our plans. However, we were still determined to finish this campaign and make it meaningful despite these obstacles," shared Crowe. "I'm incredibly proud of the adaptability and tenacity this team displayed."
The Bateman Team is offered through an intensive course called Advanced Public Relations Campaigns. Students apply for the course and are selected by Dr. Christie Kleinmann, associate professor of public relations, to join the team. The course places emphasis on the ethical and social responsibility of communication actions and the opportunity to create positive charge for a client-organization and its stakeholders. The Bateman team engages in a real-world learning environment performing research, planning implementation and evaluation of public relations through a year-long client-based project.
Dr. Kleinmann is proud of this team and her students. "They've faced unprecedented challenges and found creative and effective solutions. They didn't do this just once, but twice. Each time, the team redesigned their campaign to effectively meet the needs of the client," she said.
Her favorite part of Bateman every year is watching each team grow in their professional confidence. She said, "I love to watch them attain something that at first seemed unattainable. It's so special to watch them take dreams and make them reality."