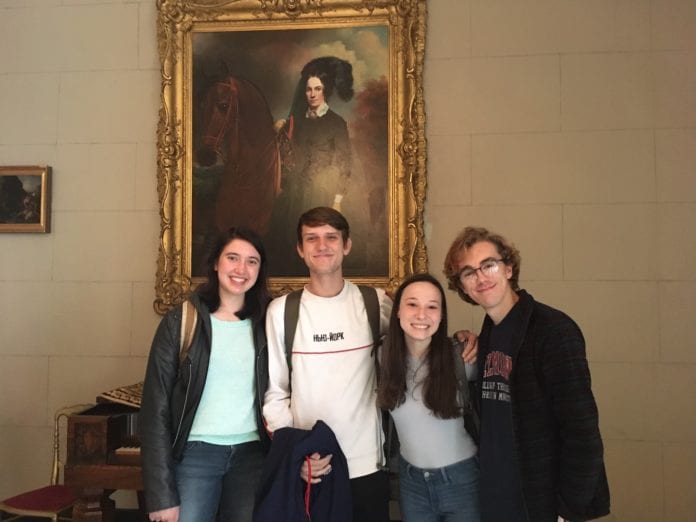 Last fall, Belmont honors students creatively studied a piece of foundational Belmont history and brought it to life again through an augmented reality online exhibit. The Digital Humanities and Nashville Sites class, taught by Professor of Practice Dr. Mary Ellen Pethel, collaborated with the team at the historic Belmont Mansion to allow visitors from all over the world to take a glimpse inside.
Sophomore Sam Bartholomew said through projects such as these, anyone can travel back in time without even leaving the house. "Sometimes money, transportation or perhaps a global pandemic can be prohibitive for visiting historical places such as the Belmont Mansion. In a rapidly modernizing world, things are changing fast, and it's becoming easier and easier to forget about history," he said. "Through online exhibits such as the one we put together, anyone with an internet connection can virtually visit a place of significant historical and aesthetic value. It also allows people who are visual learners or just appreciate of pictures to immerse themselves in history and appreciate it much more than just an article on a website or in a book somewhere."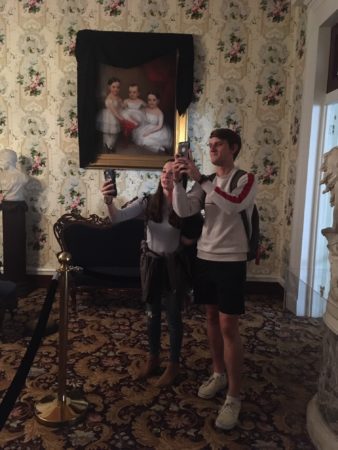 The online exhibit matches historical images in the Mansion to photographs taken today, allowing visitors to compare the ongoing restoration of the Mansion to its mid-19th century appearance. Using the digital tools presented through this collaboration, viewers can scroll between the "Past and Present" with the click of a mouse or touch of a finger.
"The mansion has a vast archive of photos that should be shared, and many of those photos look different than the Mansion does today," explained Bartholomew. "It's really helpful and cool to be able to put two photos that are over 100 years apart right next to each other and sliding between them. We created a sort of time travel, and I'm really glad that we were able to give that resource to the Mansion and the general public."
Honors students in Interdisciplinary Studies and Global Education toured the Belmont Mansion with Architectural Historian and Curator of Collections Jerry Trescott, researched collections and wrote text with support from Education Coordinator Danielle Ullrich and Director of Operations & Social Media Lauren Batte, as well as interviewing and working with Executive Director Mark Brown.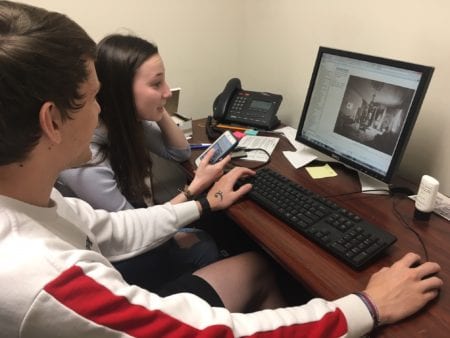 This interdisciplinary class was divided into three sections. In the first, students learned about methods, tools and projects related to the growing field of Digital Humanities that include data mining, textual and visual analysis, mapping, online exhibits and augmented/virtual reality.
The second part of the class was dedicated to working on launching a bigger project in addition to the Belmont Mansion exhibit: NashvilleSites.org, a digital interactive walking tour project. This project features 21 self-guided, digital friendly walking tours with narration. Tours can be taken in person or virtually, and Belmont University is one of the major sponsors. Students developed, mapped, tested and built the Capitol and Church Architecture tour. To take their tour, click here.
Finally, the class turned to designing an online exhibit using an augmented reality tool called Juxtapose (developed by Northwestern University), now featured on the Belmont Mansion website: belmontmansion.com/take-a-glimpse-inside.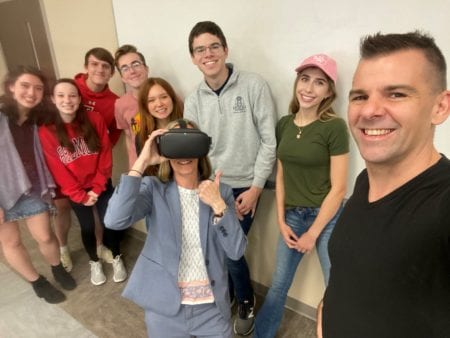 Sophomore Aidan McKernan was in a bit of a unique situation in the Digital Humanities class, being the only audio engineer in the section. "When Dr. Pethel offered to let me help out with the recording and editing, I knew it would be a great way to learn, practice and apply what I have learned in the classroom context to something a little more real world," he explained. "I really like being an intern with Nashville Sites for exactly that reason. This internship combines some more professional studio elements of recording with the recording techniques I use at home."
McKernan and Bartholomew, who have continued their work with Nashville Sites as interns this Spring, agreed that Nashville's history is complex and unique and that it's important to keep telling its stories for free. There are still digital internships available for next year. If interested, students can email maryellen.pethel@belmont.edu.
Following @NashvilleSites on social media is a great way to learn more about taking a tour virtually, as well as visiting the website. Pethel said, "During this time of social distancing, NashvilleSites.org is a great way to get out of the house–with images, maps and narration that tell the Nashville story."