Groups who participated in the March 24 Social Justice Hackathon —an event resulting from the Belmont University and Fisk University Social Justice Collaborative, with assistance from Belmont Data Collaborative—used data to tell compelling stories for change. Many of the seven groups opened their final presentations by creating two hypothetical personas. One individual would be a resident of Nashville's 37215 zip code—an affluent, predominantly-white area of Nashville; the other, a resident of the 37208 zip code —one of Nashville's lower-income neighborhoods.
The individuals would have drastically different stories, according to the findings from the data sets that Belmont and Fisk students studied. Students looked at issues that residents of the 37208 neighborhood face at higher rates, such as criminally high interest rates on payday loans, difficult access to healthcare facilities, amounts of sleep and more.
The presentations were given at the end of a full day of data "hacking," or diving into data to look for themes, collaborating on insights and developing suggestions for actionable change. A panel of judges from Fisk and Belmont named the "Equity Engineers" group the winners, although the goal of the event was not to win, but to make meaningful relationships between universities while tackling complex social challenges.
Belmont senior Marcus Knight said the hackathon was outside of his creative wheelhouse but reminded him of the "simple fact that there is potential and capacity for real, legislative, actionable change in the lives of Nashvillians and Americans everywhere." "Don't let the modern defeatist narrative fool you; change is ALWAYS possible," he said.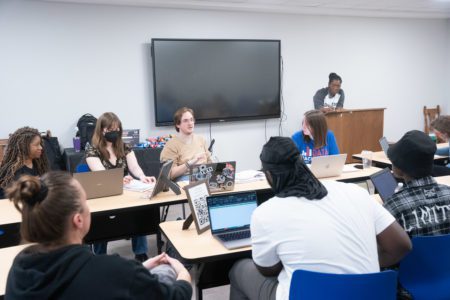 One Belmont student participant, freshman Creative and Entertainment Industries major Andrea Lawrence, decided to participate after having a fun experience with a previous Belmont Data Collaborative Hackathon and enjoying the opportunity to meet new people, see one another's strengths and skills, and collaborate to create a solution to a real-life problem in a short amount of time.
"It was a fantastic experience getting to work with students at Fisk because they were so kind and helpful when providing their perspective to us as Belmont students. The areas that we live and go to school in are drastically different, so it was a crucial part of understanding those differences and where we could help improve their community."
Lawrence's group presented partnerships with banks and loan companies as a solution to the inequity when it comes to the rate that loans are given to people of color vs. white people. The groups also proposed job and internship fairs for Fisk students to create deep Nashville connections that will push them to stay in the area post-graduation and give back to their community directly.
"Having the data to back up the problem that is being experienced helps to drive an impactful solution. Using the data to create insights and see the numbers sometimes helps people realize the severity of the situation rather than just discussing the overall idea," Lawrence said.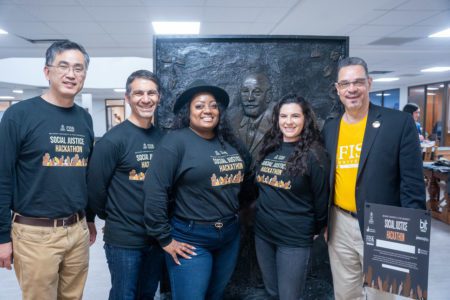 The Social Justice Collaborative between Belmont and Fisk, funded by a grant from the Rechter Family Foundation, is designed to cultivate champions for social justice by providing knowledge and experiences for students, exposing them to civil rights movements across the Middle Tennessee area, encouraging leadership and guiding them to create a body of work that will inspire the world. The collaboration takes shape through a joint course that students from both universities enroll in, working together to tackle issues surrounding systematic barriers of health care, education, housing, jobs and the criminal justice system.
View more photos from the data hackathon here.