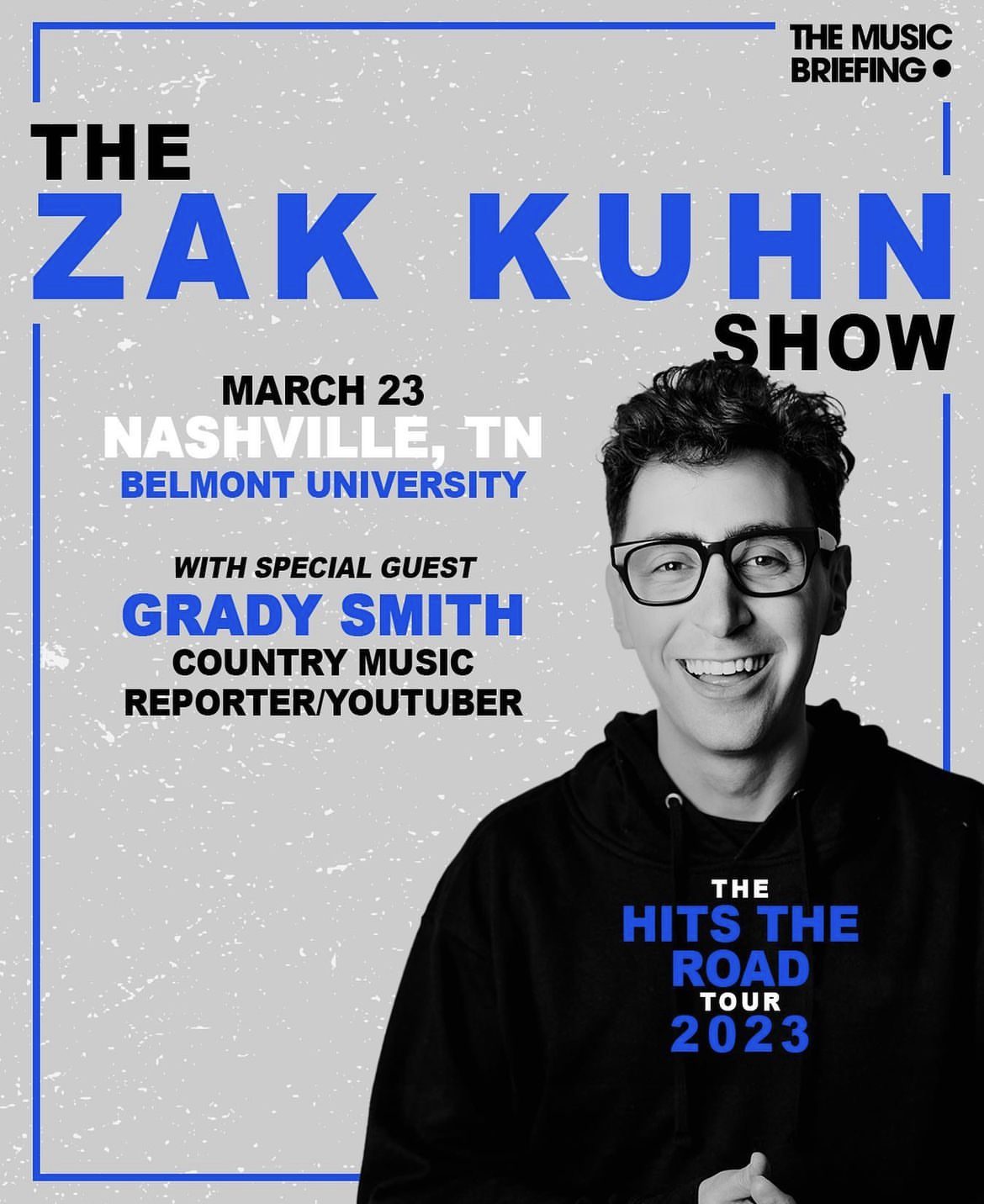 Zak Kuhn, founder of The Nashville Briefing newsletter recorded an episode of his podcast—The Zak Kuhn Show—in Belmont's Johnson Theater on Thursday, March 23 as part of Curb College's student enrichment seminar series.  
An entertainment business entrepreneur, Kuhn started The Nashville Briefing newsletter in 2019 as a publication "made by the industry, for the industry." Its target audience includes publishers, agents, label executives, managers and musicians. In 2020, Kuhn launched "The Zak Kuhn Show" podcast, where he shares long-form interviews with leaders in the music and entrainment business.
During his live recording event at Belmont, the podcaster interviewed country music reporter-turned-YouTuber Grady Smith who shared about his serendipitous path to success as well as advice for students and content creators.
Smith cut his teeth at Entertainment Weekly, first as an intern, then as a staff writer. Big opportunities came his way when he raised his hand for projects no one else wanted, his first being a pithy Jake Owen album review. A simple 'yes' launched his career into the country music space where he now has a collective online audience of nearly 250,000 followers.
Through the rise of social media, Smith has seen relationships with the press change, especially throughout the last decade. "The membrane between reader and writer is getting thinner and thinner."
Students asked the YouTuber questions such as 'what's the biggest thing that helped you find and maintain success,' and 'how did your mindset change from your twenties to your thirties.'
The content creator shared that ambitious concepts and patience for videos to take off have been crucial for his YouTube career. You have to have "acceptance of delayed gratification" while also continuing to put out content. Additionally, he said, "When you're on the internet, you're a Rorschach test… I can't control how I'm perceived." Smith's self-assurance has changed from his twenties to his thirties, giving him more confidence to lean into his craft.
Listen to the full episode here.