As Martin Luther King week at Belmont comes to a close on campus, students and faculty will not forget the 'legacy of uplift' that Dr. King created as the campus community continues to pursue and encourage his example.
Belmont University's Marting Luther King Jr. Week 2021 kicked off with an Uplift Luncheon on the 15th, where various MLK sermons, speeches and quotes were shared by members of the Belmont community. Watch the luncheon here.
On the actual MLK holiday, January 18, Belmont dedicated the new Freedom Plaza Memorial in a special online ceremony. The memorial featured guest speakers Dr. Susan West, Dr. Bob Fisher, Dr. Anthony Blash, Mark Brown, Dr. Jeffrey Ames and student Haily McGee who all spoke on the history and legacy of the memorial. 
As President of the Black Student Association, McGee shared how this memorial will serve as a daily reminder of Belmont's history, "whether good or bad." In closing, she shared, "While this memorial is not the solution, it is a step in the right direction." To see the memorial and dedication on Belmont's YouTube, click here.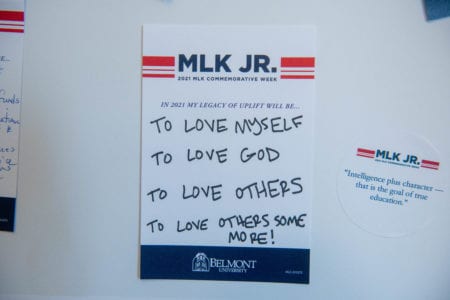 Throughout the week, students and faculty filled out cards to be posted on bulletin boards sharing their personal intentions and reasoning for the celebration of Martin Luther King week. Intentions of students, faculty and staff can be found on bulletin boards throughout campus as remembering the importance of MLK week. Campus also used the week to give back, both through a book drive benefitting the PENCIL Foundation and through a city-wide Letter Writing Project with Greater Nashville Regional Council, Creative Ideas Project with Turnip Green Creative Reuse.
On Tuesday of the week, Jemar Tisby, author of the book "Color of Compromise," hosted a presentation for the faculty and staff at Belmont in addition to a chapel hosted for students. This day also consisted of an event that celebrated and took strides forward in racial healing, hosted by Baratunde Thurston. The National Day of Healing featured many guest speakers that discussed how to unravel racial biases.
Marcus Knight, publicity chair of the Black Student Association, shared words of wisdom at the organization's virtual candlelight vigil where students were able to pick up a celebration packet ahead of time. Knight shared, "There can be no comfort, complacency or currency when it comes to moving forward as a human race, solving the problem of systemic racism and social injustice." 
He led the virtual event as he shared that "justice is not a noun. It is a verb. Love is not a noun. It is a verb. Righteousness is not a noun. It is a verb."
As campus moves forward throughout the semester, let this week be a reminder to act on the words spoken and treat others kindly.