This February, Belmont will celebrate Black History Month by hosting a variety of events, including several that highlight this year's national theme of "Black Health and Wellness" as well as Belmont's Black Student Association's (BSA) theme "I'm Black And," highlighting the deeper intersectionality of African-American culture. These events range from speakers who will discuss social issues surrounding the intersectionality of race in healthcare to showing movies about significant moments in black history.
Black Student Association President Ashley Sawyer said Black History Month is a wonderful opportunity to focus on the contributions that African Americans have made to improve society. "I am forever grateful for a time to honor the culture that cultivated me and am looking forward to using February as a moment to ensure that every Black life is honored, valued and appreciated in an optimal manner that extends past this brief period," she said. "The upcoming events hosted by the Black Student Association reflect the inherent value that the Black experience holds, embodying the multifaceted beauty, sophistication and excellence of one of the world's most unique creations."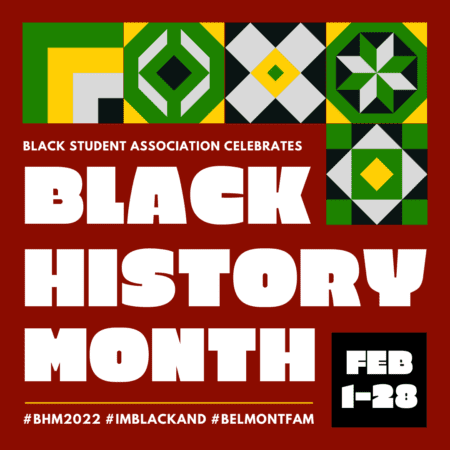 The celebration began on February 7 with a special night of worship with the Black Voices Movement in the Gabhart Chapel. Several chapels throughout the month will focus on issues within the black community and emphasize the importance of black history. The BSA choir will perform at several of the chapels, including a special chapel on February 14.
In addition to chapel events, a variety of speakers will be speaking across campus this month. On February 9 a conversation called "Don't Touch My Hair" was held in Massey classroom 110. The BSA-sponsored event hosted a discussion on microaggressions against people of color/marginalized groups specifically at a predominantly white institution.
Several events will be held that focus on the theme of Black Health and Wellness, including "Vulnerability of Marginalized Groups in Climate Change" with Dr. J. Marshall Shepherd on February 21, the "Soul Cypher" mental health discussion with Belmont and Tennessee State University counseling on February 24 at Mt. Zion Baptist Church, and a Suicide Prevention & Stigmas in Mental Health panel discussion with Dr. Georgetta Harris Wyatt and Associate Dean of Students, Student Well-Being Angie Bryant on February 28.
To ignite conversations surrounding diversity and respect in the classroom, GPS will host "Creating a Safe and Respectful Environment for Students in the Classroom" on February 16 at 10 a.m. A panel of students from the Black Student Association, Best Buddies and the HOPE Council will explore how students can grow in their awareness of students' experiences in the classroom, as well as discuss why it is important, and what it looks like to foster safe spaces for all students at Belmont.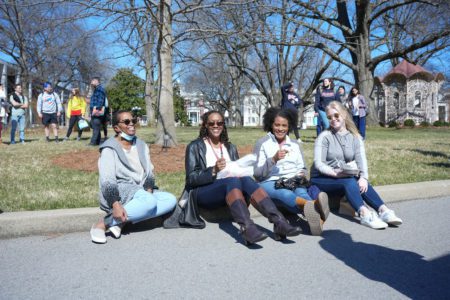 During Homecoming week, a special alumni reunion will be held on February 26 at 10 a.m. in the JAAC Conference Room that gives black students and alumni a chance to reconnect and be updated on what is going on around and outside of Belmont.
The conversations held and celebration of black culture should continue beyond the confines of Black History Month. "We want the student body and beyond to know that black culture is to not only be tolerated but celebrated," said BSA social media coordinator and senior music business major Marcus Knight. "And all year long, as well, not just during February or during Diversity Week. Black people are not a monolith; black people are educated, entrepreneurial, creative, multi-faceted in every way!"
For a full list of all speakers and events throughout the month, visit https://www.belmont.edu/mle/bhm.html.