Since first coming to Belmont nearly 20 years ago, Professor of Entrepreneurship Dr. Jeff Cornwall – known affectionately across campus and to his students as "Dr. C" – has built a legacy based on helping students start, grow and make their entrepreneurial ventures stand out. Before his upcoming retirement in May, and in honor of his longstanding commitment to students, the Cone Center for Entrepreneurship surprised him with the establishment of the Jeffrey R. Cornwall Legacy Launch Fund at this year's Top 100 Alumni Entrepreneur Awards, held Monday night in the Fisher Center for the Performing Arts. Named in his honor, the fund celebrates Cornwall's success and contributions toward building entrepreneurship at Belmont into a nationally recognized program. 
The Jeffrey R. Cornwall Legacy Launch Fund will support a student or students whose entrepreneurial vision and spirit holds the potential to leave a legacy through the launch and growth of a venture. A preliminary goal of $25,000 was set to jumpstart the endowment, but thanks to the support of generous alumni and community supporters, the endowment reached just under $45,000 before the announcement was made Monday night. The total continues to grow as more and more people pledge their support for the fund. 
"Enduring legacies are built on strong foundations, and as Jeff transitions to his next phase, his legacy will be built on the many great students and student ventures he has helped through his teaching and mentoring," said Elizabeth Gortmaker, director of the Thomas F. Cone Center for Entrepreneurship. "We have such an amazing community at Belmont where our alumni want to give back to our students, and this endowment provides a unique opportunity to support our next generation of entrepreneurs and the ventures that have the power to leave lasting legacies of their own."
Ranked again as a top entrepreneurship program for 2022 by the Princeton Review and Entrepreneur Magazine, Belmont alumni entrepreneurs represent more than 724 businesses in 87 cities and six countries in 2021, and with a focus on business for a purpose, the majority are still in business 5-10 years later.
This year's Top 100 honorees include 39 new names, represent businesses founded in 31 cities and feature alumni who studied 37 different majors while at Belmont. A video with the full list of entrepreneurs honored can be found on the Belmont Entrepreneurs YouTube page, and the event's commemorative booklet can be found on Issuu.
Professor of Entrepreneurship Dr. Mark Schenkel said, "Dr. Cornwall has had an incredible impact on students through his own teaching and mentorship, as well as on me and many of his colleagues here and throughout the entrepreneurship discipline. His legacy leaves an indelible mark on the DNA of how we teach and how students experience entrepreneurship at Belmont."
Schenkel spoke about legacy at the Top 100 event, saying Cornwall often joked about his tendency to chase shiny objects in the 17 years they have worked together. "I learned quickly that he wasn't talking about the shiny objects we tend to think of, like the latest technology or other short-lived ideas. For Jeff, students are the real shiny objects, and the 'shine' is the transformative brilliance he sees within each of them. Just how the brilliance of diamonds comes to be, he sees the valuable quality in students that takes time and work to shape into something that sparkles and eventually becomes widely admired."
Cornwall's approach is shaped by more than 40 years as a serial entrepreneur and teacher. He has been involved in more than a dozen startups, including co-founding and serving as the CEO of the fast-growing Atlantic Behavioral Health Systems in Raleigh, N.C. Before coming to Belmont, Dr. Cornwall was the Sandra Schulze Chair in Entrepreneurship at the University of St. Thomas in St. Paul, Minnesota, following previous service on the faculty at the University of Wisconsin-Oshkosh and the University of Kentucky. At Belmont, he has served as the prestigious Massey Chair in Entrepreneurship, as well as his role as professor. He has authored nine books and numerous articles and has been recognized with national awards for his work in curriculum development and teaching. In 2013, he was named the National Entrepreneurship Educator of the Year by the United States Association for Small Business and Entrepreneurship.
Cornwall's father was a huge influence in his life, inspiring him to think about how to succeed and how to share his wisdom with the next generations of entrepreneurs. He is known for challenging his students to realize that their legacy is not in their list of accomplishments, but in the traditions, thoughts and ideas they will someday pass to those who will come behind. He also emphasizes the importance of balancing ventures with family and faith, wanting his students to understand that their legacy will be left in the kind of people, parents and spouses they become. He encourages students to share their success stories, failures and overall entrepreneurial journey with others through a "pay it forward" philosophy, and he loves to see students step into mentoring roles themselves.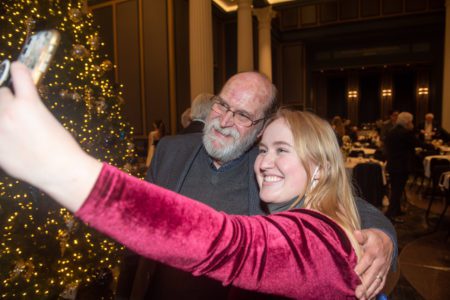 Potential award recipients for the Cornwall Launch Fund will be considered through an annual self-nomination process and reviewed by an award committee with representatives from the entrepreneurship faculty, the Cone Center for Entrepreneurship, prior award recipients and successful entrepreneurial alumni. Recipients will be recognized with both a certificate and a grant-based monetary award at the annual College of Business Awards celebration intended to support their efforts to launch and grow their business. Recipients will also have access to mentoring and other resources through the Cone Center. A campaign with the goal of raising money to sustain the endowment in the years to come is in the works, and recipients will be encouraged to contribute as their businesses grow and succeed.
"I am so humbled by the creation of this fund in my name," said Dr. Cornwall. "It is incredibly heartwarming that Belmont entrepreneurs will receive support to launch many new ventures over the years to come."
A recap of the awards event can be found here.