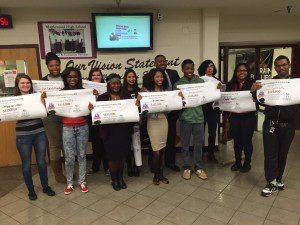 Belmont University announced today that the Bridges to Belmont full scholarship program would be expanded from 30 students entering in fall 2014 to 34 students for fall 2015. The 34 scholarship recipients from four Metro Nashville high schools—Maplewood, Stratford, Whites Creek and Pearl Cohn—were informed of their scholarship offers earlier this month following an extensive application and interview process.
Bridges to Belmont reflects a deliberate step on the part of Belmont's administration to enhance the University's cultural and ethnic diversity while also continuing efforts to provide higher education to students in Davidson County. Bridges to Belmont Scholars, many of whom are first-generation college students, each are awarded a full four-year scholarship that covers tuition, room, board, required fees and books (from state and federal grants as well as Belmont scholarship funds.) Throughout their higher education experience, they also are given academic support and peer mentors.
Belmont President Dr. Bob Fisher said, "The Bridges program clearly reflects Belmont's mission to provide a transformative education to men and women of diverse backgrounds, but it also demonstrates our commitment to serve our city.  Nashville gives so much to Belmont – this is our chance to give back by investing in these high-potential young people from our community."
"At a time when there are so many opportunities for first-time college students in Tennessee, Belmont is once again leading the pack," said Metro's Director of Schools Dr. Jesse Register. "Bridges to Belmont is giving students an opportunity like no other, and we are so thrilled to continue this partnership. The millions of dollars and enormous support they have given to Metro students is life-changing. We thank them for their commitment."
Bridges to Belmont Director Mary Clark and Program Assistant Nadi Bishop oversee the program and arrange for supplemental instruction, organizational support, tutor training and mentoring. The Bridges scholars' education begins with the Summer Academy, during which students take three general education courses in an extended format—First Year Seminar, First Year Writing and Math 1020—as well as a course in leadership skills and academic development. They also complete three community service projects at Nashville-area nonprofit organizations as well as attend an academic lecture convocation and a chapel program designed to introduce them to Belmont campus life.
Clark said, "Our Bridges Scholars have immersed themselves in campus life, including being active in academic-based organizations, extracurricular opportunities and student worker positions across the University. We have instituted new programs to not only support the Scholars but to expose them and the entire campus community to diverse individuals through the Speaking on Success speaker series and a Scholar to Professional mentoring program, among other initiatives."
Launched in March 2013, Bridges to Belmont is designed to enroll high potential students from Metro Nashville Public Schools who may not have previously been able to consider Belmont as an option. The first Bridges to Belmont cohort of 26 students entered in fall 2013, and a second class of 30 students began last fall. With the addition of 34 new Bridges Scholars in fall 2015, the program reflects a potential total four-year investment (from both external and Belmont financial aid resources) in Nashville students exceeding $13.6 million.
Click here to view a video of Stratford seniors being informed of their Bridges to Belmont scholarship offers.