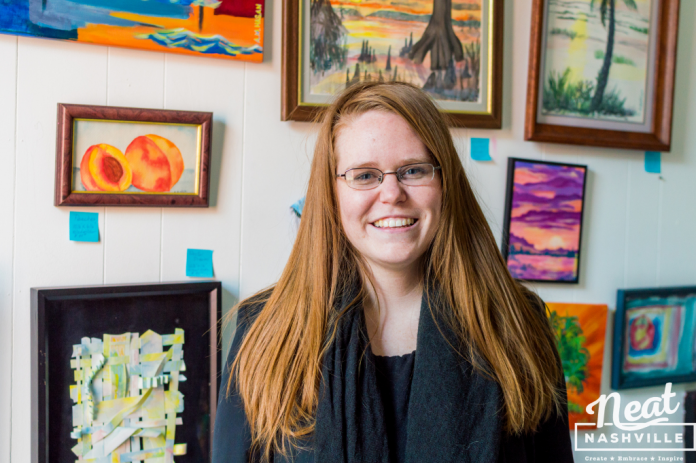 Nashville-based social enterprise nonprofit, Poverty and the Arts is now Daybreak Arts
Daybreak Arts, founded by Belmont alumna Nicole Brandt Minyard (class of 2014), was recently rebranded from Poverty in the Arts to better promote and support their artists. The newly-named organization and Brandt Minyard were recently recognized at Belmont's third-annual Top 100 alumni entrepreneur event.
"When I started this nonprofit as a college student at Belmont University in 2014, I didn't understand the importance of selecting a name that was both practical and inspirational," Brandt Minyard explained. "Little did I know how important picking the right name and logo was going to be. For years I've been looking for the right time to execute an organizational rebrand and name change. So when most of our regular programming and shows were paused in 2020, it finally seemed like the year to go for it! I'm so thankful that we had the opportunity to dream alongside our artists, board, staff and other key stakeholders during this rebrand."
Rebranding has been a dream of Brandt Minyard since 2015. Poverty in the Arts was the original name of a set of community service projects that were created in 2011 in partnership with Room in the Inn, and the name was kept for consistency sake.
The name, Daybreak Arts, was selected with great care and attention for how the rebrand would impact the artists, the value of their work and the community's perception of the organization.
One artist of the program said, "As people currently experiencing and/or struggling to free ourselves from being homeless, transient, below the poverty line, etc we are constantly being labeled, profiled, judged and marginalized as such above anything else we are. [It's] nice to feel as though artist, not homeless artist/poor artist/charity case, was the label applied to us when promoting and selling our art."
Staff worked alongside Peck Design Firm and Delevante Creative for the rebrand. Ultimately, the sun icon in the organization's new logo was created by a Daybreak artist, Kateri, in 2015. Daybreak was thrilled to compensate Kateri for her design influence.
To see the rebrand and support Daybreak artists this holiday season, visit https://daybreakarts.org.