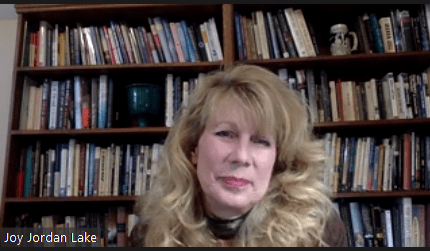 As a part of both Belmont's 19th-annual Humanities Symposium and Debate 2020 Programming, the College of Liberal Arts and Social Sciences hosted author Joy Jordan-Lake for a conversation on "unearthing the past and rebuilding the present" through works of fiction. Jordan-Lake is a writer of a variety of nonfiction and fiction titles with a focus on social justice, including novels "Blue Hole Back Home" and "A Tangled Mercy."
Jordan-Lake explained that fiction, grounded in historical events, can provide many lessons from the past, as well as strategies to fight injustices today. Through both classic and modern stories, fiction has the power to enact social change to bring us closer to a more perfect union.
Jordan-Lake's own experiences surrounding racial injustices were foundational to her interest in novels of social change. She shared stories of her childhood in the South during a time of rampant racism that reached her small Appalachian town and greatly affected her friends. She befriended a Sri Lankan family who had moved to her community in hopes of experiencing equal opportunity in America. However, after many racist attacks on the family, the daughter asked Jordan-Lake why this kept happening to them. As young teenagers, Jordan-Lake was unable to provide an adequate answer to her friend, which sparked her motivation to write. These experiences inspired Jordan-Lake's first novel "Blue Hole Back Home," a story not only of the devastating effects of racial hatred, but a celebration of courage, confrontation and healing.
"You speak up. You say or you write. You let it be known however you have to," Jordan-Lake said in response to hateful behavior or language. She encouraged that everyone has the ability to say "no" to those that marginalize or demean any part of the human community, can refuse to be a pawn in a game of power and tell a tale that might persuade.
On the power of story in effecting social change, Jordan-Lake explored the ways in which classic stories have affected American history. She explained American racial justice in fiction must be compelling in story, not in argument. This was exemplified in "Uncle Tom's Cabin" by Harriet Beecher Stowe. Jordan-Lake noted that while the story is controversial, no one can question its impact on the conversation of racial justice. The criticisms of the story are legitimate and worthy of discussion, but must be examined in their historical context and impact of social change in its time.
Other authors of classic works, such as Charles Dickens, Upton Sinclair and John Steinbeck, have examples of novels that shifted the court of public opinion and continued debates on important topics. The sufferings and triumphs of the characters of their stories changed the views of many Americans, and at the least, provided a new perspective for many.
"How interesting that a work of fiction has been part of what has formed public opinion, part of the ongoing debate of democracy," Jordan-Lake said. To students, she closed saying, "I encourage you to take note not just of the political debates and of celebrity posts about social issues, but also to take note of the novels that make you see the world a little different and maybe, just maybe, unearth a part of the past you'd never known. And maybe, just maybe, contribute to building a cultural present in which a democracy thrives, even as it values decency, compassion, diversity and equality."