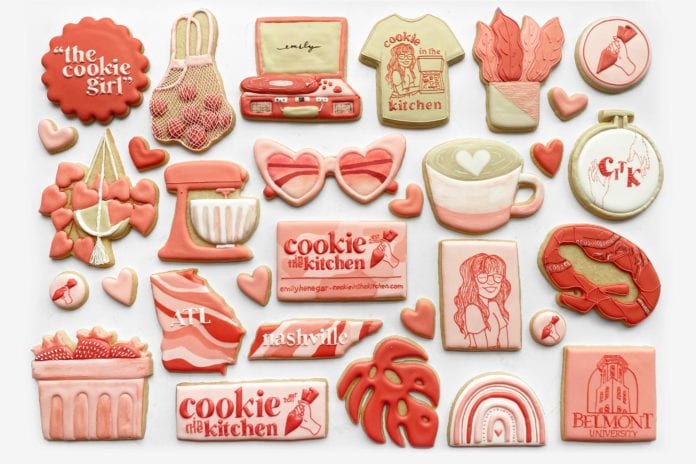 Junior entrepreneurship major Emily Henegar will tell you she agrees with one of her role models, Christina Tosi of the famous bakery Milkbar, when she says she knows what she wants to do for the rest of her life – make cookies.
What started as making cookies for family movie nights as a little girl has turned into a successful, custom-decorated, high-end sugar cookie business called Cookie in the Kitchen. "My cookies are elaborate, memorable and go a step further to illustrate people's lives on an edible art form. (And they actually taste good!)"
Now in its ninth year, Henegar's business has grown in popularity in both her hometown of Atlanta, Georgia and now in Nashville as a Belmont student, particularly through the music scene.
"In high school I would go to concerts and shows and bring cookies to give the artists, decorated with their album covers, merchandise, fan art, etc, as a way to meet the band," Henegar explained. "Now I'm kind of known for that, and Nashville was the perfect place to take the idea."
Henegar posted photos of her cookies from various shows to her Instagram account and people noticed. She began getting orders from Triple 8 Management to create cookies for some of their clients, like Belmont alumni band Judah and the Lion. Pretty soon, she was hearing from Bridgestone Arena and being commissioned to make cookies for Travis Scott's "Astroworld" tour and Ariana Grande's tour.
There is not an official contract with Bridgestone, but Henegar does have the privilege of volunteering to make cookies for any show she likes, and either being paid or receiving concert tickets. "It's kind of crazy. I asked to make cookies for the John Mayer show. I have known him and his music my whole life and it was just awesome to get to recreate some of his albums in cookie form," she said.
There happened to be a Live Nation employee at one of the backstage parties who sampled the Cookie in the Kitchen product and ultimately ordered cookies for another event. All the buzz eventually led to a call from MTV after seeing Henegar's custom cookies on Maggie Rogers's Instagram story.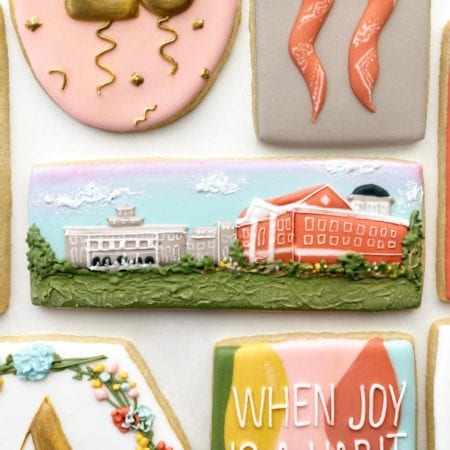 Henegar baked three sets of cookies for MTV, her biggest and most prominent client – one set to share for Nicki Minaj's birthday, one for Harry Styles's album release and one for the Top Albums of the decade, which included a cookie embodying Adele's face for her album "21."
Henegar laughed, "Usually I try to avoid putting faces on cookies, but there was no way around that one. I just kind of went for it."
While Henegar says she is more of a graphic designer than a traditional painter or drawer, one look at her iced-by-hand cookie designs would suggest otherwise. As her only employee, Henegar does all photography, editing, social media, graphic design and of course, baking, for Cookie in the Kitchen. Her design communications minor comes in handy with design-related tasks for public relations and marketing for her business.
The baking is the easy part – Henegar has been doing that her whole life with her mom and her grandparents. But, her older sister had a clay figurine business (and a debit card) that she admired, which inspired her to launch Cookie in the Kitchen in the 5th grade. Her family helped her create a WordPress Blog, a logo and business cards. One day, she walked around her neighborhood offering cookie samples and asking if neighbors would like to make an order. She received 19 orders that day. Since then, Cookie in the Kitchen grew little by little through word of mouth around Atlanta.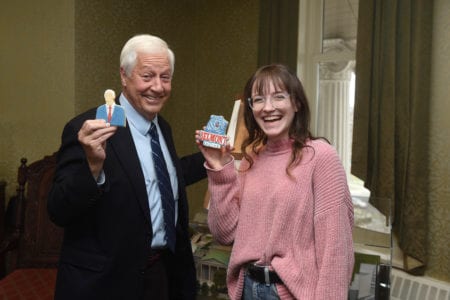 She started with basic cookie flavors like chocolate chip, double chocolate peanut butter and lemon before honing in on sugar cookie decoration in middle school when her business began taking off.
Henegar worked with her artistic sister to learn decorating, mixed in with some trial and error, YouTube tutorials and help from a family friend with a cooking blog. But really, she picked it up on her own.
When Henegar began looking for college options, she knew she wanted to find a place in a city atmosphere, with a Christian culture and located somewhat close to home. "I was looking at entrepreneurship programs, and it happened to be that Belmont's program was outstanding. Nashville made the most sense," she explained. "Plus, everyone here is passionate about something, so I felt like my passion would fit really well with the Belmont community."
She was right. She is now known around campus as "Cookie Girl," not far from her grandfather's nickname for her: "Cookie." Along with her family, Henegar said her Belmont peers are some of her biggest supporters and encouragers, and most of her orders now come from Nashville through word of mouth and plenty of brags on Instagram.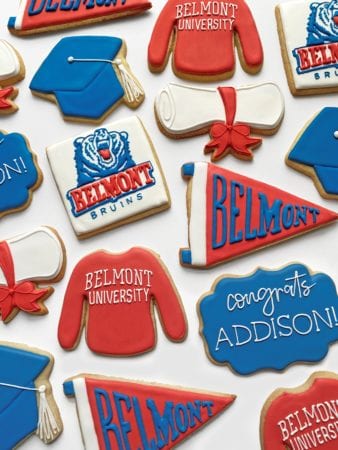 "I've been able to really build my brand and create an image for my business, which has been great. The entrepreneurship program at Belmont has given me so much useful information and has the most wonderful professors," Henegar said. "It's really fun for me to think about it growing into a bakery one day, too, and to think of what I hope to curate in a community. I want my name to not only be known for concert cookies, but also for being passionate and really connecting with employees and customers."
Henegar dreams of one day having a bakery focused on hospitality and an environment of community where people can study, hang out with friends and connect, like a coffee shop-bakery hybrid. She would like to stay focused on cookies, as most bakeries only offer cookies as an add-on. Henegar said the continuously up-and-coming city of Nashville, with its vibrant coffee shop atmosphere and love for small businesses, seems like the perfect place to be.
"My success with baking for the music industry has really changed the way I think about my business and showed me that there is a really niche market here," she explained.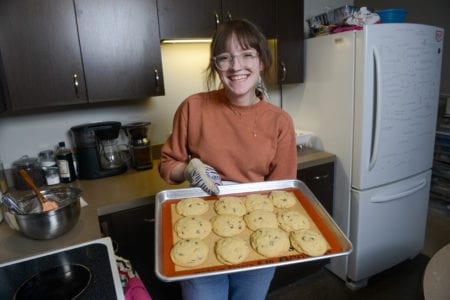 As a junior, Henegar is really starting to focus on the business side of things and credits Entrepreneurship Professor Dr. Jeffrey Cornwall and Director of Belmont's Center for Entrepreneurship Elizabeth Gortmaker with giving her great business advice and guidance. She is always developing her product, and from seeing her mom live with Celiac's all her life, she hopes to offer safe and tasty gluten-free products, as well.
The COVID-19 pandemic hasn't affected business for Cookie in the Kitchen as one might think. Henegar explained people are looking for creative solutions to disappointments about cancellations of in-person events and are willing to spend more on cookies because they face less expenses, not being able to throw large birthday or graduation parties.
"At a time when depressing headlines splatter the news, cookies can be a vessel for joy, creativity and belonging for bakers and customers alike," Henegar said. "Personally, they're not just a way for me to keep busy: they're a part of who I am. Cookies allow me to express myself, show my love to others and they excite me for my future ahead."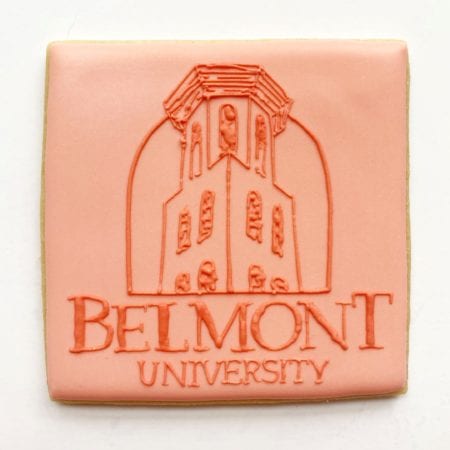 Henegar is proud of her ability to be a student and successfully run her business, although sometimes that comes with pulling all-nighters to fill orders and foregoing social events to bake. But when school or life gets tough, Henegar can always rely on her delicious chocolate chip cookie recipe for comfort.
To learn more about Henegar and her business, visit cookieinthekitchen.com, follow along with her outstanding cookie designs @cookieinthekitchen on Instagram, or place an order through the form on her website cookieinthekitchen.com/order.