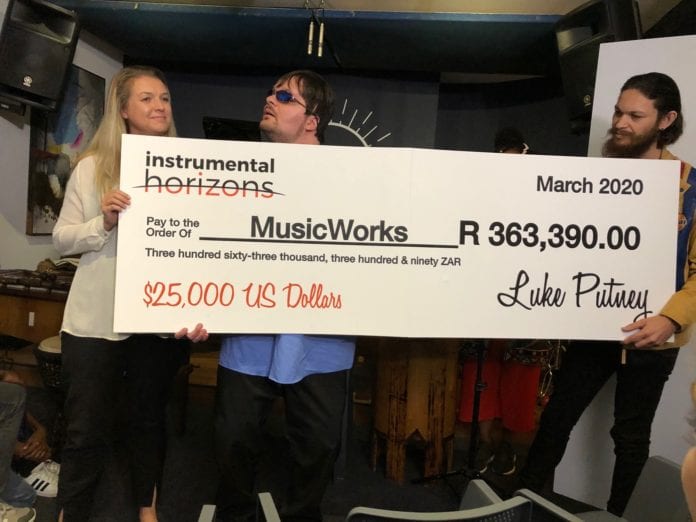 In March 2020, alumnus Luke Putney's nonprofit organization Instrumental Horizons provided $25,000 for an after school music education program called MusicWorks that serves 640 children in marginalized communities in Cape Town, South Africa.
The children and management of MusicWorks overwhelmed Putney with joy. He began recording his song "Cape Town (I Miss Africa)" a few years ago but never finished it. Instead, Putney worked on recovering from a brain tumor, stroke and seizures. After more than 100 days in the hospital, he started getting better. Despite facing blindness, chronic pain and lost use of his left arm, Putney still lives his life to the fullest. One day he got up from his wheelchair and took a couple of steps. After that, he realized he could walk a mile.
The musician and philanthropist asked people to donate money for every mile he walked, and as a "thank you," everyone who donated received a copy of his song. Putney walked a marathon, one mile per day for 26 days, to raise money for MusicWorks. "My goal was to raise as much money as I could to provide instruments and music education to some very deserving kids in Cape Town, South Africa," said Putney.
Putney published this video explaining how 100 percent of donations to his "Marathon and Music for Africa" went to support these children – $25,000 U.S. dollars. Delta Airlines donated airfare so he could deliver the check in person, and friends and family provided housing in South Africa.
In the video, Executive Director Sunelle Fouche said the children were excited to welcome Luke. "His story is such an amazing example for the children of resilience and about seeing it through. And that amazing things can happen when you put your mind to it," she said. "It's not just the money he is bringing, but he's bringing this amazing story and this wonderful person that just brings light and energy into every space he enters."
For the recording of the song, Belmont donated studio time at Ocean Way Studios. Five-time Grammy Award winner Victor Wooten offered to produce the record and other world class musicians joined in such as Bakithi Kumalo, Bob Franceschini, Jeff Coffin, Darren English, Derico Watson and Brad Covington. All sales, royalties and streaming rights for "Cape Town (I Miss Africa)" will continue to support MusicWorks.
The song can be found on Apple Music, Spotify, iTunes and more, at this link:
https://ditto.fm/cape-town-i-miss-africa.