The Mike Curb College of Entertainment & Music Business, in partnership with Warner Chappell Music, presented the Belmont + Warner Chappell Writers Showcase in the Johnson Theater on Oct. 30 with special performances by alumni Jordan Reynolds, Parker Welling, Mark Trussell, Carlton Anderson and Caroline Watkins as well as current student Grace Lee.
The alumni shared music, advice and stories from their time at the University. The event showcased the special partnership between Belmont and Warner Chappell. Over the years, the publishing company has hired many Belmont alumni in business and creative roles, most recently offering a new, unique internship opportunity for songwriting students.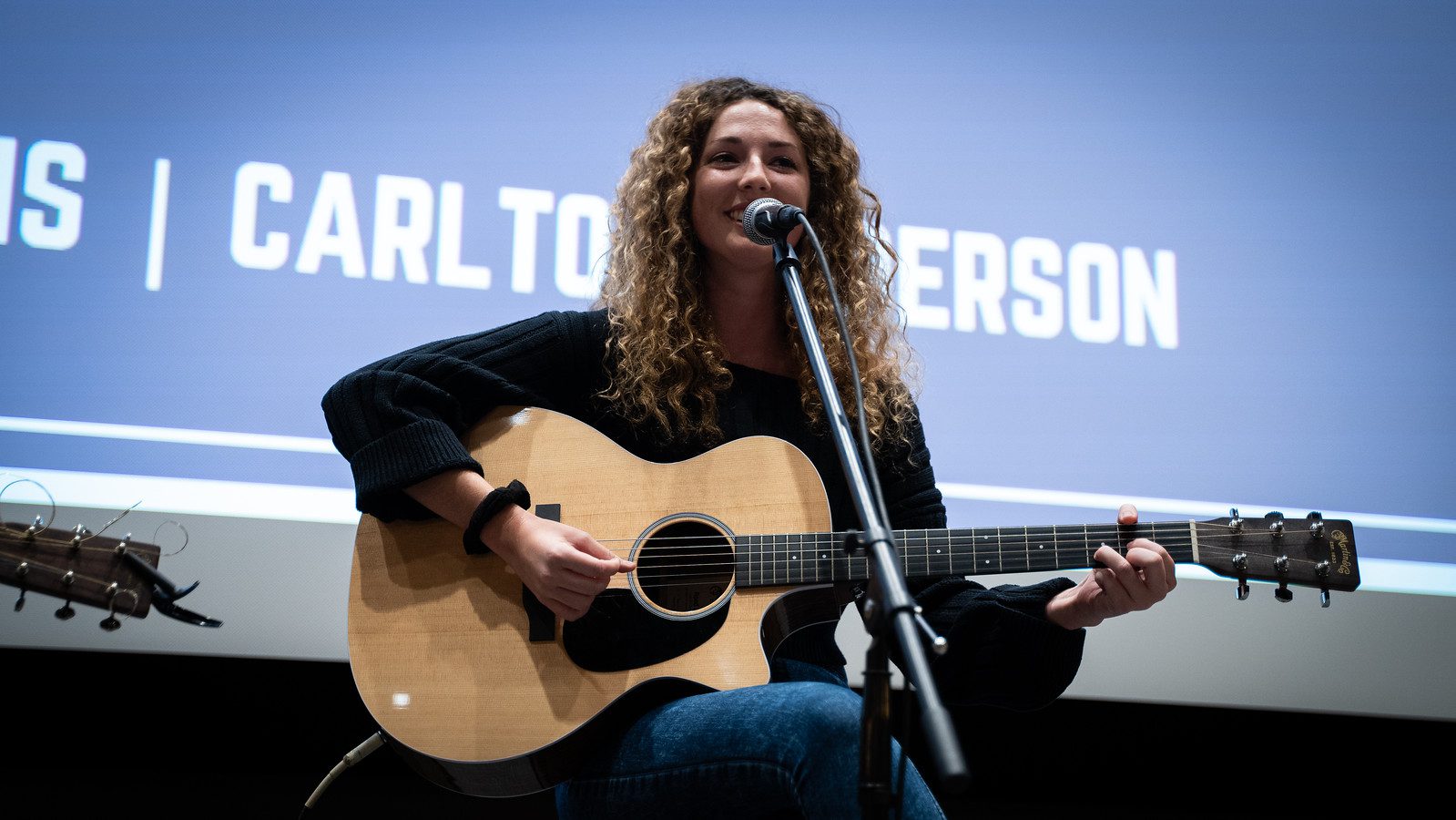 The night included a performance by Grace Lee, a junior songwriting major, who is currently participating in Warner Chappell's Emerging Talent Associate – Songwriting program. Through the internship, Lee will be treated as an up and coming W/C songwriter, receiving various co-writing opportunities with professional songwriters, consistent song feedback, one-on-one time with the A&R staff and mentoring in the publishing community in Nashville.
"Being a Belmont alumni myself, it has been such an honor to help facilitate the Warner Chappell / Belmont songwriting program. Alison Junker (previously at WC, now at Spotify) and Ben Vaughn created the program in 2018 and passed it on to me in 2019," said Jessi Vaughn, manager, A&R/Digital at Warner Chappell Music. "I have been blown away by the talent, willingness to learn and bravery that Grace has displayed thus far. Walking into the room to write songs with people you've never met can be intimidating. Not only has she created amazing art, but she's also done an incredible job and forging new friendships in the songwriting community. I look forward to seeing the rising stars this program yields over the next several years."
ames Elliott, Cchair of Belmont's Songwriting Program added, "I loved hearing the stories of these Belmont alumni who write for Warner Chappell Music. It was great listening to the hit songs they've written and how they met their co-writers and so many others they work with during their time as Belmont students. The Curb College has a rich history with Warner Chappell, and we're excited about the new opportunities Ben Vaughn and his team are providing for songwriting majors like Grace Lee to co-write with their writers via the innovative Warner Chappell Songwriting Internship."