The year Chesney McClellan was born, the Titans came to Tennessee. Now in her second year of Belmont's Master of Sport Administration program, McClellan is working her dream internship as a member of the Titan's team herself.
The Tennessee native said she and her family have always been huge Titans fans. "I have watched this team for as long as I can remember. I've seen the Steve McNair era, the Marcus Mariota era, the Derrick Henry era," she said. "I've grown up with the Titans, and it's been so cool to see the team grow with the city and see them become so successful. I'm emotionally invested and wouldn't want to work for any other team."
Upon graduating from Auburn University in 2021, McClellan was looking for a master's program that would allow her to capitalize on her love for sports while focusing on gaining experience through internships. She couldn't have picked a better fit than Belmont, saying "I loved the structure of Belmont's program, and if you want to work in professional sports, there's truly no better city to live in or study in."
"We are incredibly fortunate to live in one of the best sports cities in the nation," said Associate Professor and Chair of the Department of Sport Administration Dr. Ted Peetz. "Students like Chesney are the standard, not the exception, when it comes to students in our program getting amazing experiences."
McClellan interned with the Titans last fall at the operations level, spent last spring as a team operations graduate assistant with Belmont's Baseball team and then returned to work with the Titans again this summer as the Amy Adams Women in Sports Intern during training camp. She stayed on for the fall in a scouting and operations capacity, gaining experience scouting for the team, watching film, attending practices and charting statistics on players, scheduling game weekend itineraries and planning other logistics.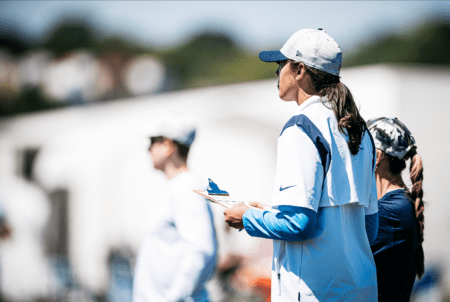 Having been thrown so many scenarios in different areas of the team – from transporting players to the airport or writing a scouting report – McClellan is thankful to have been given a well-rounded experience throughout this opportunity, noting that if someone told her tomorrow she would be starting a full-time job in operations or scouting, she'd feel comfortable and prepared either way.
When it came time for her internship to conclude, the Titans' General Manager Jon Robinson took note of her excellent work and asked her to stay through the season.
"Chesney's fearless attitude has served her well. She does a great job networking and maximizing the opportunities this program offers," said Peetz. "Most of our graduate students are doing 4-5 internships while they are in our program. Getting practical experience is so important when wanting to work in a competitive industry like sports."
The practical experience has been vital in helping McClellan get closer to her goal of working for a professional football team some day – maybe as an executive vice president or assistant to the general manager. She said it has been inspiring to be part of such a stable organization where everyone is on the same page and working cohesively to make the team successful.
"You may see the team once a week on Sundays, playing and winning games, but this is a 24-hour operation where everyone is so supportive of one another. The easiest part of the week is on Sundays when we just get to play," she said. "It's motivating to see how each person at every level helps each other out – from people at the bottom of the organization to the professional athletes – everyone works so hard every single day, which makes me want to work harder and always give my best."
Peetz advises that any student who wants to work in the sport industry look for ways to get involved from the start, whether it is volunteering with Belmont Athletics, getting connected with the Sport Administration club or taking advantage of some of the many opportunities to work with professional, collegiate and community sport organizations in Nashville. He said, "Our program combines the curriculum and practical experience needed to be successful. Don't just watch from the sidelines, get involved!"