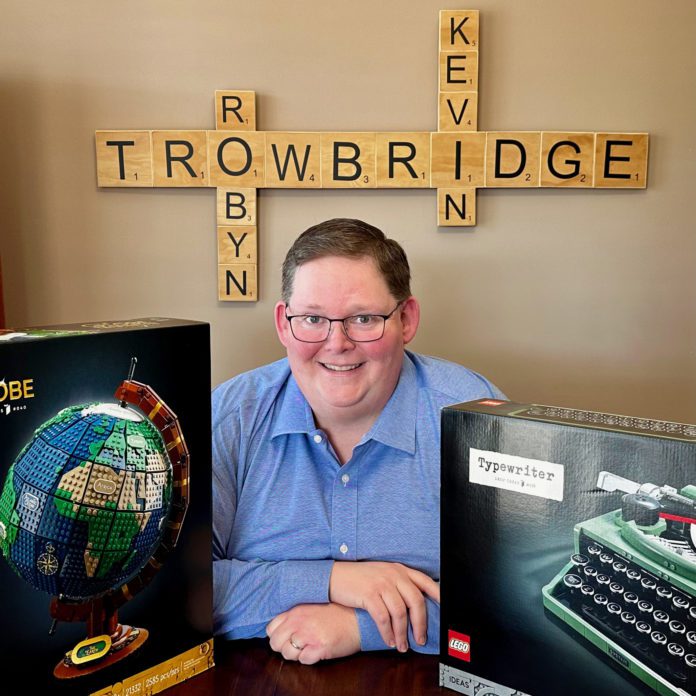 Meet Kevin S. Trowbridge, Ph.D., APR, who has worked at Belmont since 2011.
Where are you from?
I grew up about an hour north of Nashville in a rural community, known as Uno, in South Central Kentucky. An only child whose parents and extended family had always lived in the county, I was the first to leave home and go to college.
What do you do at Belmont?
After about 10 years of working in marketing and communications, I now have the privilege of helping young adults discover who they were created to be so they can do what they are called to do. I am an associate professor and chair of the Department of Public Relations; faculty advisor for Tower Creative Communications, our student-led agency; and, starting in the fall, I will be directing the M.S. in Strategic Communication & Leadership graduate program.
Tell us about your family.
My wife of nearly 22 years, Robyn, is an academic coach in Murfreesboro City Schools. We are doting parents of a two-year-old American Cocker Spaniel puppy named Hank.
What was the last book you read? What did you think?
At the recommendation of a colleague, last month I read Unoffendable: How Just One Change Can Make All of Life Better by Brant Hansen (2015, W. Publishing). The premise is simple, but powerful and timely. Hansen encourages readers to adopt a mindset of forgiveness, letting go of anger and offense, to live a more peaceful and joyful life. It's a message many of us need to heed especially since we tend to be offended by anything that contradicts our personal values, beliefs or opinions.
What are you currently watching? What do you think?
Does TikTok count? Seriously, my list of streaming favorites and our DVR has a never-ending supply of shows. But I just watched "Alaska Daily," which returned last Thursday night on ABC. It's a fascinating drama, which premiered last fall, about a high-profile investigative report who has relocated to Alaska. Hoping for a second season.
What is something interesting someone could find on your desk or in your office?
I'm a huge fan of Potato Heads and LEGO bricks. At one point I had more than 60 spuds in my office, but I decided to redecorate during the pandemic. Still, I'm hoping to build one or two new LEGO sets during spring break. We'll see if they make their way to campus or stay in my home office.
Do you have a secret talent?
It's a different one. Technological intuition. I've always marveled at technology—first analog and then digital—and had an aptitude for understanding how it worked and imaging ways we could use it (vs. being used by it). From my family's first answering machine, cordless phone and VCR to personal computers, mobile devices and now AR, VR and AI. Technology just makes sense to me. And, I didn't realize it was a talent or know it had a name until about 10 years ago.
What could you give a 30-minute presentation about with no advance preparation? AKA – what are you an expert on?
Strategic communication planning, i.e., aligning goals, objectives, strategies and tactics with a brand's (or organization's) mission. As Antoine de Saint-Exupéry wrote in Le Petit Prince, "A goal without a plan is just a wish." And "good planning and hard work lead to prosperity" (Proverbs 21:5).
What is the most interesting thing you are working on right now?
Experimenting with AI (especially generative text) and imagining how it can be used ethically and efficiently in strategic communication and education.
Do you have a favorite thing about working at Belmont?
The opportunity to imagine, innovate and inspire.
What song would you say best sums you up? This is Belmont, after all!
"Atlas: Five" by Sleeping at Last