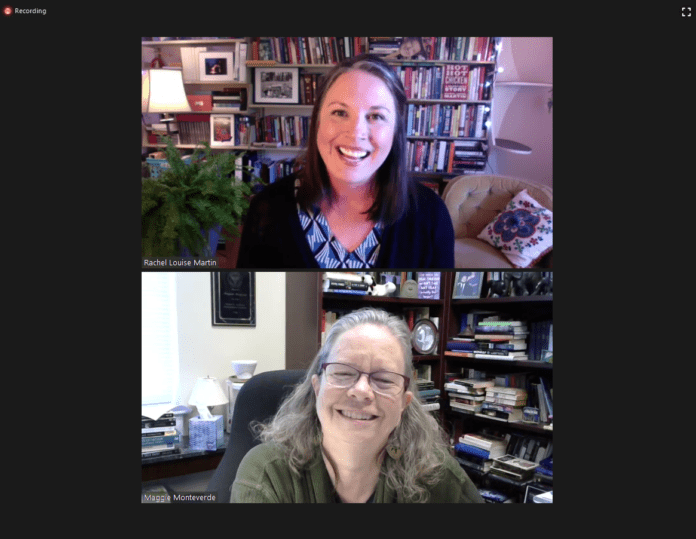 A featured event of Belmont's 19th annual Humanities Symposium, as well as an event from Belmont's Debate 2020 programming lineup, "A Mother's Advice Is Always Safest:" The Woman Who Wrote the Letter That Changed American History" was presented virtually by Dr. Rachel Louise Martin on September 30. The Symposium is organized by faculty of the College of Liberal Arts and Social Sciences.
Martin, a writer and historian who earned her doctorate in women's and gender history, led the talk and Q&A that explored the life of Febb Burn. When the fight for ratification moved to Tennessee, many suffragettes were ready to write off the amendment. They believed there was no hope for victory in the South. Then Burn, a widowed mother in Appalachia, sent an eight-page letter to her son Representative Harry T. Burn, flipping his vote.
The message of Martin's presentation was that world-changing reform doesn't happen because famous people behave heroically; change occurs when thousands of ordinary people living in quiet backwaters decide to fight for the American dream.
Martin chronicled the life of Febb, or Febbie as she was called. Her son, Harry, was the youngest representative and had earned the nickname Baby Burn. Nobody was sure how he would vote on the amendment, but the morning of, he walked into the room wearing a red rose, which was an anti-suffragette symbol. During roll call vote, he stood up still wearing his red rose, but voted instead for women to have the right to vote.
The reason he changed his mind? A letter in his pocket that he had received that morning from his mother Febb. The letter was pages long and discussed the rainy weather, family news, a plea for him to write to her and a casual mention that he should vote for suffrage. That was enough.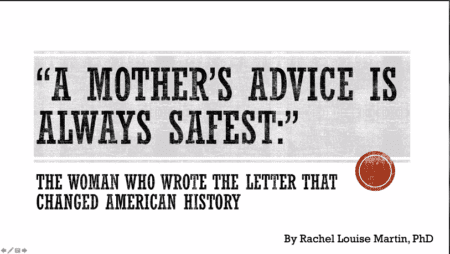 Febb told the press later on that the real reason she cared so much was because as an educated, successful woman and taxpayer, she felt it unjust that she didn't have a hand in her country's affairs while men around her who couldn't read or write and didn't pay taxes did.
Martin recommended further reading of "The Woman's Hour" by Elaine Weiss and "Tennessee Statesman Harry T. Burn: Woman Suffrage, Free Elections and a Life of Service" by Tyler L. Boyd to get the full story on what happened that day.
Education was very important to Febbie and her family. She was educated as a schoolteacher and worked until she got married and moved to Mouse Creek, later known as Niota. She passed this love of education to her children and wanted them to use their gifts to make a difference in the world. After her husband and youngest daughter died, she moved herself and her children to a farm they named Half Burn.
She did receive some recognition for her role in the vote at that time by the League of Women voters and other journalists, but for the rest of her days, she lived quietly on the farm enjoying her time as a grandmother. When she died of heart trouble years later, she was mourned but was basically forgotten until her story resurfaced this year as Tennessee celebrated the 100th anniversary of Women's Suffrage. Her descendants have also become interested in her story, and there is now a statue of her and Harry in Knoxville.
Martin said, "The effort to resurrect her story got me thinking about the importance of our approach to history. A history that hides more than it shows – Febb was one of many who have been forgotten as we tell the story of women's suffrage. It means we have erased the people who didn't fit into society's dominant cast. If you were not white, wealthy and well-educated, you were forgotten."
The method of approaching history by telling glorified narratives of progress means the average person gets to ignore how many people were written out of the story. Martin explained Febb's flaws – she was most likely racist and selfishly fighting for her own rights and not the country at large. She was far from perfect, but so were all of our heroes.
"It's important for us to wrestle with that because we have our own flaws, every bit as mired in our ways of thinking and acting as someone like Febb was," Martin said. "We perpetuate those systems on to future generations when we tell these 'wonderful' histories. We need to begin acknowledging how the people we honor fell short and use them as a way of making changes moving forward."
She continued by saying society needs to be a bit more pragmatic in its attempts at bettering the world. "We need to push each other toward less prejudice but look at it as a spectrum of growth. We need to recognize when people are growing past who they have been, even if it's not perfect," she said. "If the only people who changed the world are famous or the smartest or the wealthiest, it encourages us not to have to do anything and get off easy. It's an excuse for inaction. The people who make the biggest differences are often not different from ourselves."
Martin started her research on Febb's story a year ago and intended to have it out in time for the centennial celebration of the 19th amendment, but she landed a book deal which put the project on hold. Find more about Martin on rachelmartinwrites.com where you can also pre-order her new book, "Hot, Hot Chicken: A Nashville Story."