The College of Sciences and Mathematics hosted its annual Science Undergraduate Research Symposium (SURS) yesterday, headed by keynote speaker Dr. David Wright. Wright is currently a professor of chemistry and the director of Laboratories for Innovations in Global Health Technologies at Vanderbilt University. He has a B.S. in Chemistry from Tulane University and a Ph.D from the Massachusetts Institute of Technology. His research employs inorganic chemistry, nanotechnology and material science to solve real-world problems.  He recently presented his research at a TEDx event in Nashville.
According to Wright, there were 500 million clinical cases of drug-resistant malaria in 2016. This means that "a Titanic a day of kids are dying from a disease that is absolutely curable." He said that this problem is caused by misdiagnosis and subsequent over-treatment of the disease.
He asserted, then, that the key to treating this problem is a more efficient diagnosis protocol. "What we really need are better tools!" he said. His group aims to solve typical diagnostic problems like supply issues, lack of equipment and minimal record-keeping by developing and implementing low-resource diagnostic tests for malaria.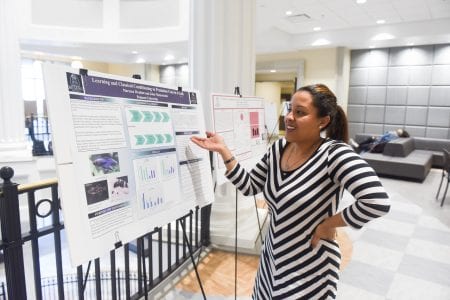 His team has come up with three viable solutions to these problems using every-day objects, including a redesign of the standard Rapid Diagnostic Strip Test using origami techniques and a cell phone app. He mentioned that "origami has been the inspiration for all kinds of science," like arterial stints, car airbags and DNA studies. They also devised a model for creating a simpler, more effective testing device using only small beads and a piece of glass from the inspiration of coffee rings on a dining room table, as well as a "glow stick test," that uses pre-existing, inexpensive and mass-produced toys. All three of these tools can be used to detect a variety of infectious diseases.
The crux of Wright's research is the development of life-saving medical tools while keeping costs low by adapting and capitalizing on pre-existing technology. His work emphasizes that "all we have to do is open our minds to the possibility of the usefulness of everyday objects."
Wright's keynote address was a precursor of the evening's Science Undergraduate Research Symposium, which is held each fall and gives students in the College of Sciences and Mathematics an opportunity to present their research. Approximately 50 poster and 20 oral presentations were offered by students in biology, psychological science, honors, chemistry, physics, biochemistry and molecular biology, neuroscience, environmental science, math and computer science.