Six Belmont students, senior biology majors Kristen Murray, Maddison Rich and Ryan Dannemiller, recent biology alumna Nina Sherman, and senior biochemistry and molecular biology majors Zaid Hatem and Addison Roelandts, presented their research at the South East Regional Yeast Meeting (SERYM) on Saturday, April 9.
Each student spent the past two semesters working on an independent research project with Dr. Becky Adams. The SERYM meeting includes presentations by scientific researchers from universities across the South East, including Vanderbilt University, Emory University and Georgia Tech.
Students Zaid Hatem and Nina Sherman won awards for their work.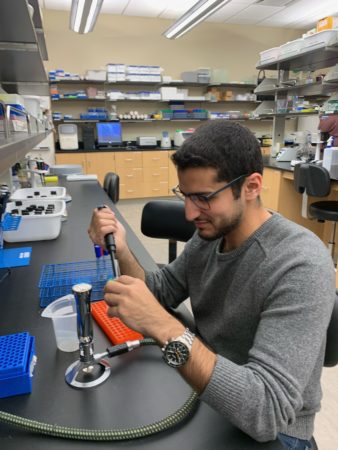 Hatem won the Outstanding Participation Award for his excellent questions during the meeting. "Zaid was even more participatory than the graduate students and postdoctoral fellows at the meeting," one judge commented.
Sherman won an award for Best Poster Presentation. After her presentation, a judge commented he thought she was much older than she was based on the maturity level of her presentation and analysis.