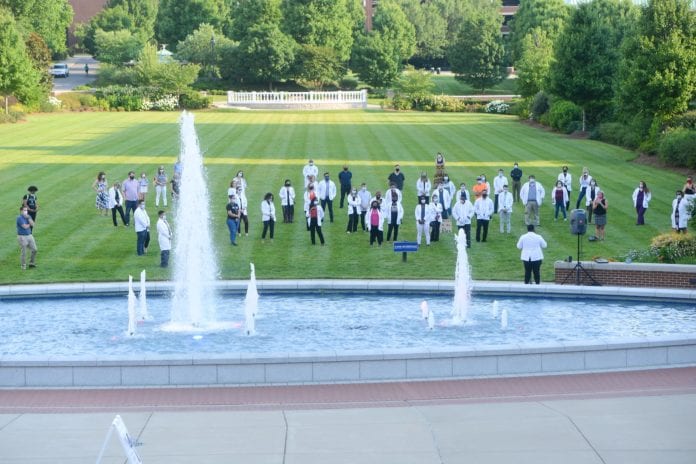 On June 18, Belmont University College of Pharmacy invited faculty, staff, students and administrators to participate in a demonstration of "White Coats for Black Lives."
Participants joined together to listen, take a knee and observe a moment of silence for racial equality.  The event drew a wide array of people from across the organization; in addition to family members and university staff.
Nigel Heard, president of the Student National Pharmacy Association chapter at Belmont University, organized the demonstration and was one of the speakers. "The purpose of this event today is to not only bring awareness to police brutality but also, and more importantly, systemic racism, especially in the healthcare setting," said Heard. "The purpose is to give insight on the pain carried by a community that influences reactions. To help you understand the weight on our shoulders as we maneuver through our everyday lives. To shine light on police brutality, the unnecessary deaths of people who look like me, and the lack of accountability for those that murder them. It is not good enough to not be a racist. You must be actively anti-racism."
Dr. Marilyn Thompson Odom, chair of the Department of Pharmaceutical, Social, and Administrative Sciences in the College of Pharmacy, spoke on the impact of racism and poverty on her as she was growing up in Alabama. After she shared other experiences, she spoke of how racism is impacting her two daughters and how she is helping them process the current state of racism in their environments.
Dean of the College of Pharmacy Dr. David Gregory also spoke at the demonstration. "I'm grateful for our students and faculty taking a stand against systemic racial injustices. Today's speakers educated everyone on the history of health inequities and racial injustices against black people, and the College of Pharmacy is committed to helping change our society for the better," he said.
"Black Lives Matter is not a movement that should be led by black people. It is FOR black people, therefore it must be supported by people of all other races," said Dr. Angela Hagan, associate professor in the College of Pharmacy. "We must remember that systemic racism is everywhere: our government and legal system, our education system, our healthcare system. We have built this system and upheld its racist policies by not voicing our opposition to policies that may favor us, but disadvantage others. We must protect one another from racism. We can change the system."