Two Oaks residence hall renamed in honor of Joe's parents: John and Frances Russell Hall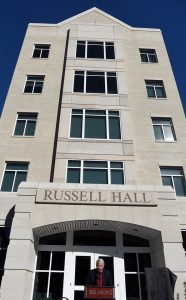 Long-time Belmont Trustees Joe and Anne Russell recently made possible a $4 million endowment to support the Bridges to Belmont program, an initiative that was designed to enroll qualified, high potential students from Metro Nashville Public Schools who may not have previously been able to consider Belmont an option. Bridges Scholars are currently selected from four Metro Nashville Public Schools—Stratford, Maplewood, Whites Creek and Pearl Cohn—and most of the scholars are first-generation college students.
Belmont President Dr. Bob Fisher said, "Joe and Anne Russell show their support of this University in countless ways, and I can't say enough about their contributions of time and resources for more than two decades. With this gift to support current and future Bridges Scholars, they are clearly demonstrating the tremendous value they place on education. The entire community—here at Belmont and throughout our city—will benefit from their generosity."
Joe serves as the chairman of Elan-Polo Inc. and has contributed to Belmont's Board of Trustees for 20 years. Anne serves as special counsel at/for Adams and Reese LLP.  Anne has been a Belmont board member for five years.
In gratitude for their gift, a 400-bed residence hall that opened on campus in 2014 under the name Two Oaks is being renamed in honor of Joe's parents, John and Frances Russell, who Joe credits for inspiring his success by demanding he put his education first. A first generation college student, Joe recalls, "I grew up in a family where the only question was where I would get a college education, not if. My mother and dad saw the difference between what a college degree could mean for my financial and social enhancement as well as my overall quality of life."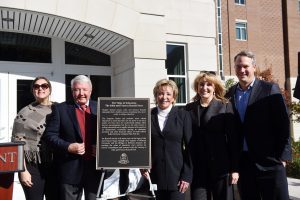 Joe's father, John Russell, was the second oldest of seven children and left school in the ninth grade following his father's death in order to help provide for his family. While working at the same bank for 47 years, he clearly saw the opportunities that abounded for men and women with college educations as their acquired skills quickly led to advancement. Joe's mother, Frances Russell, was born in Kentucky and attended St. Thomas' nursing program, working for years as the assistant head nurse in the hospital's pediatric ward. The couple fervently encouraged their son toward education, and their belief in the value of education was so strong that John Russell even helped initiate a scholarship program similar to Bridges to Belmont at the Isaac Litton High School men's club.
Joe's parents' focus became a strong theme in Russell's own life. Contributing to the Bridges to Belmont program connects his passion for education to his personal history in other ways, too, since he grew up in East Nashville, where he attended a public school that saw less than a fourth of graduating seniors go to college.
Russell said, "In our country the biggest challenge is to develop ideas and initiatives that generate interest from kids who would not ordinarily be interested or concerned with their educational outcome. Our involvement with Belmont is allowing us to play a small part in addressing that challenge. There's a little bit of magic for us in this gift to Belmont in that we know it can help kids in public schools from our hometown receive a potentially life-changing education."
The $4 million endowed fund will support the Bridges to Belmont program, which currently includes more than 100 Scholars who are receiving a Belmont education with all costs for tuition, room and board, books and fees covered via University scholarships along with state and federal grants.