Belmont University continues to take their students "from here, to anywhere" with a plethora of study abroad opportunities offered all over the world during the semester, spring break, Maymester and summer. Studying abroad allows Belmont students to receive academic credit while advancing their Belmont degree and exploring other cultures.
Dr. Thandi Dinani, director of global education, said, "It is exciting to see students become global citizens as they step outside the four walls of the classroom and learn to appreciate the cultures they encounter. When they encounter real-life scenarios, classrooms come to life! Each year, students return from studying abroad and ask how they can continue growing in newly-found passions and interests on campus and in our community. Whether it be providing health care to Maasai tribes in Tanzania, learning about cancer research in Japan or learning about the religious identities in Spain, their growth in cultural competency can have profound impact on how they interact with others at Belmont, the Nashville community and in future careers."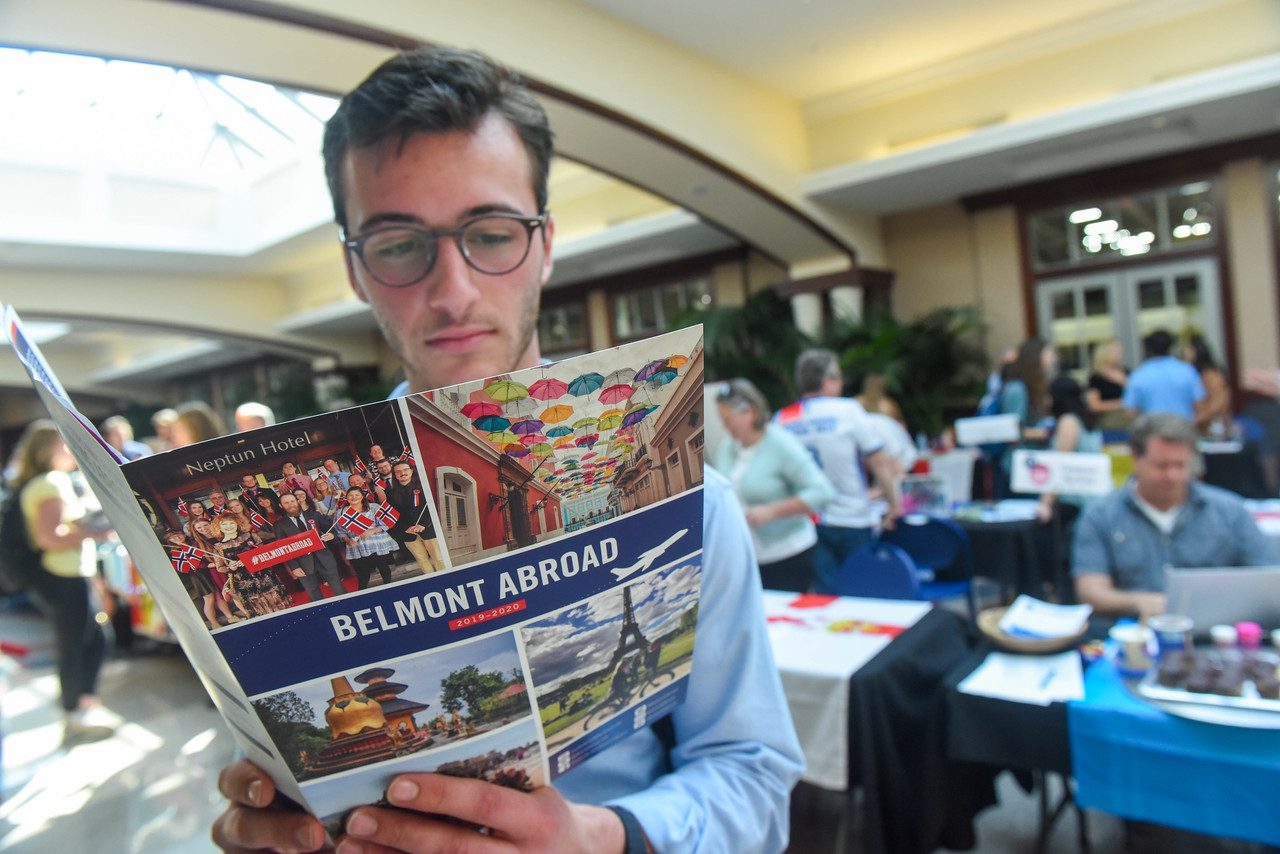 While the University offers traditional semester and year-long programs, students also have the option to study abroad on programs with varied short-term durations both within the U.S. and overseas. Short term programs are led and designed by Belmont faculty to explore one or two areas of study while giving students the opportunity to travel and deepen their global awareness.
Olivia Starks, a current junior with a double major in communication studies and faith & social justice, participated in the 2019 Belmont in Australia program. Starks shared, "Studying abroad in Australia was one of the most transformative experiences of my life. We had a great group of students and faculty who are passionate about global warming and aboriginal culture. By visiting conservation organizations and an aboriginal reserve, we were able to learn about such issues on-site. Through Belmont's study abroad programs, students have the opportunity to meet so many incredible people and gain unique experiences that are not available in everyday life."
Chair of the Communication Department Dr. Nathan Webb said, "Studying abroad is one of the best ways for college students to learn how to be global citizens. I've been fortunate enough to lead study abroad trips to Scandinavian countries, France, and now to India. It's always a joy to watch these trips impact students' learning and worldview."
Belmont's list of study abroad programs continues to grow with the compelling need to understand cultural differences in today's increasingly interconnected world.
New study abroad programs offered during Maymester and summer of 2020 include:
Belmont in Japan: Biology of Cancer and Human Health in Japan: Students will have the opportunity to study the many links between Japanese culture and the environment while visiting cultural sites in cities including Kyoto, Hiroshima, Nagasaki and Tokyo.
Belmont in Tanzania: Nursing, Trauma, Grace & Resilience: As students explore the needs of a diverse patient population in Tanzania, they have the opportunity to gain in-depth theological understandings coupled with practices of reconciliation as useful tools for recovery, well-being and resilience.
Belmont in Paris, Berlin & the Bauhaus: An Interior Design Exploration: Throughout the duration of this program, students will experience the social and built environments of beautiful cities and examine the profound design impact of the Bauhaus.
Belmont in England, Spain & Portugal: A Mindful Exploration of Community & Well Being: Students will have the opportunity to participate in a cooking workshop, tour highlight of London, experience a Historic City Walking tour in Portugal and visit the famous Lello book store while learning about culture, identity, health and systems of power and privilege.
Alumna Kate Wurm said studying abroad was one of the best decisions she made in college. "I met new people, tried new foods, visited new cities and leaped out of my comfort zone on a daily basis. In India, I came face to face with a culture I knew so little about, but I was left aching to know more," she said. "Studying abroad challenged my way of thinking and gave me the chance to grow among one of the best communities in the world. When you're given the chance to go and grow, take it."
For a complete list of study abroad opportunities offered by Belmont University's Office of Study Abroad, visit the website and explore incredible opportunities to become an experienced global citizen.