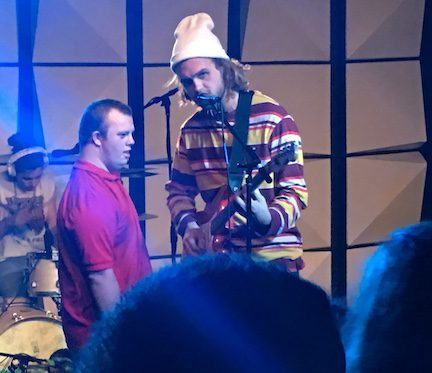 Belmont University's Best Buddies chapter put on a music festival event at Rocketown's White Building on Oct. 18. The show was part of several projects within Belmont's Music Business Concert Promotion and Booking course, and the event raised $1,600 for Best Buddies of Tennessee.
"This is one of the most successful shows we've had. The charity and performers really made this a memorable show," shared Assistant Professor Dr. David Herrera.
The venue was packed with more than 160 attendees coming to see Belmont students and alumni perform. The Thing with Feathers, Parrotfish, Tyra Madison, Ali Henderson and country blues songwriter Frankie Ballard performed, and each performer was accompanied with a "buddy" on a cover song requested by the buddy.
Student leader Dylan Hilliker commented, "It was stressful, but it all came together in the end for a great cause."