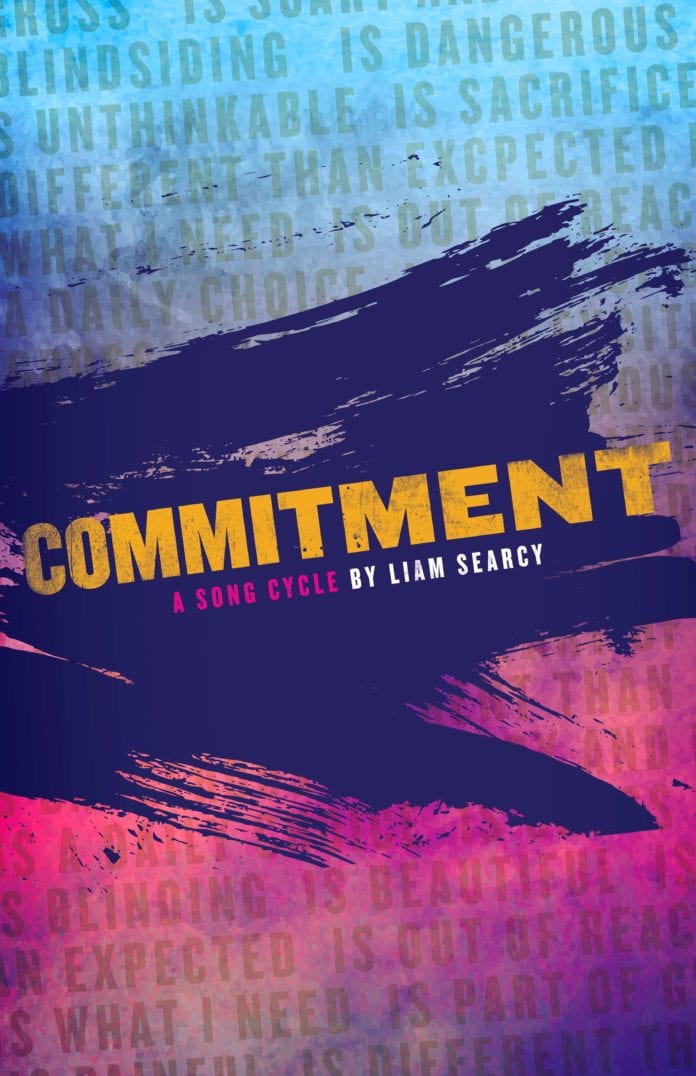 Rising senior Liam Searcy has spent the last year or more exploring the ideas of commitment and what it would look like to bring an audience along on that exploration through song. The musical theater major, actor and composer poured his heart and soul into composing his first song cycle, "Commitment," which was scheduled to premiere at 54 Below in New York City on May 8. Due to COVID-19 closures, the show has been postponed for January 8, 2021.
For non-theatergoers, a song cycle is like a concept album for musical theater where many individual perspectives on one concept are showcased (See "Edges" by Pasek and Paul or "Songs for a New World" by Jason Robert Brown). The topic is introduced at the beginning of the night and the many characters come in with different situations and individual stories to dive into the conversation around the topic.
Through his involvement with Nashville's professional theater company Studio Tenn, Searcy had the opportunity to do a reading of his song cycle, which ultimately led to work-shopping the show and later having it premiere at 54 below in New York City. He will also be performing "Commitment" at the Everblue Arts Festival in his hometown of Fairhope, Alabama this July.
While his show centers on the topic of commitment through a collection of individual story songs "exploring a term we all have different definitions for," Searcy also learned firsthand what commitment to a project looks like through producing the first two performances and readings all on his own – fundraising, promotion, writing and all – while balancing school and performing in many other professional productions around Nashville. He later joined forces with Elyn Collier to produce the show's New York City performance.
Searcy's commitment to getting the show up and running paid off, as he met his fundraising goals through house concerts during Belmont's spring break, just before the coronavirus would have made them impossible. "It's a big endeavor, but I knew I'd be able to do it. I'm really thankful to God for the passion and drive He has instilled in me," he said. "Fundraising would be so much harder right now, and it was God's timing that I got it all done before the world started shutting down. The show is more alive than ever."
Searcy and fellow Belmont student and arranger Daniel Fiamengo started work-shopping the show and writing songs in February of 2018, and they realized their songs were all relationship-centered. The workshops were called "Reasons," hosted at Nashville's Studio Tenn and directed by Matt Logan. Searcy explained, "A few months after that workshop, I just thought 'nothing is working; I need to find a reason for people to sit through these songs and enjoy them. They are enjoying them, but they don't know why they are there. The topic is not introduced and then concluded.'"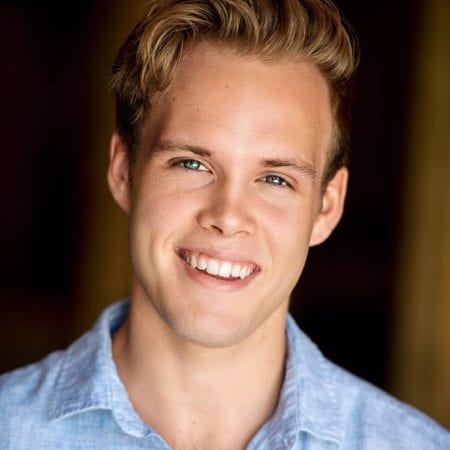 Taking a step back, Searcy realized commitment is a term addressed in each of the songs. He explained that in the dictionary, "commitment" has two definitions – one meaning an act of devotion to someone and another meaning an engagement that restricts freedom. Searcy used the tension between those definitions to produce the latest version of the show. On the day the show was supposed to premiere at 54 Below, Searcy posted a video to his Instagram of one of the show's songs, "Beautiful People," which explores commitment…or lack thereof. "I'm committed to the easy lie; That we will wake up satisfied."
Searcy was able to recruit several Belmont alumni living and working as professionals in New York to join the show, including Deonté L. Warren (Genie in "Aladdin"), Katie Ladner ("Wicked," "Sunset Boulevard"), Ben Laxton ("Book of Mormon"), Andrea Laxton ("Ghost" National Tour) and Abby Docherty, among others.
Collier served as Searcy's co-producer, and arranger Tyler Williams worked to make the songs perfect on paper. Tony Matula stepped in to design the show's poster. The artwork illustrates some of the journeys the show takes, spelling out words like "sacrifice," or "dangerous." "You can see the ideas like 'different than expected' or 'a daily choice' reflected," Searcy explained. "Commitment is a sacrifice. Commitment is blindsiding. It's the discovery that a daily choice is what can make a commitment in a relationship last and be beautiful."
Searcy said he chose musical theater major specifically at Belmont for the unique things the program offers. "Belmont is sending people to Broadway through the program and allowing us to work out in the industry," he said. "Belmont has an environment close to that of the industry where we don't feel closed off from the world, but it still has a Christian perspective and is being taught through a Christian worldview."
Searcy credits Belmont for offering him the connections and auditions that landed him jobs in professional theaters around Nashville like Studio Tenn and Chaffin's Barn Dinner Theatre. Those theater jobs, at least 11 in his three years at Belmont, allowed Searcy to explore his passion for composing and to jump at opportunities to pursue more outside work. He spent the spring semester receiving credit for a composition internship with Pete Peterson and has also been working on several other musicals of his own.
"I've had a jam-packed schedule for two and a half years, but it's been really rewarding for me as an artist. It's been a really great opportunity my teachers have set me up with," Searcy explained. "People like my vocal coach Nancy Allen who is always at my readings, and all of my teachers—David Shamburger, Erica Aubrey, Jo Lynn Burks—they're always in my court and really helping me out."
With "Commitment," Searcy hopes to build a college following. Through 54 Below, the songs become legitimized. Searcy explained, "If it can be sung in Broadway's 'Living Room,' which is the nickname for 54 Below, then it can be sung anywhere. I'll have videos posted online and the sheet music for sale, hoping that colleges all around the states will hear my music and sing it in their seminars; teachers will teach it to their students. That's a big thing for this first step."
Looking forward, Searcy hopes to focus on his deepest passion, composing, but plans to continue acting on stage and in film. With more shows in the works, he hopes to use the footprint created with "Commitment" to step into a place in New York after he graduates.