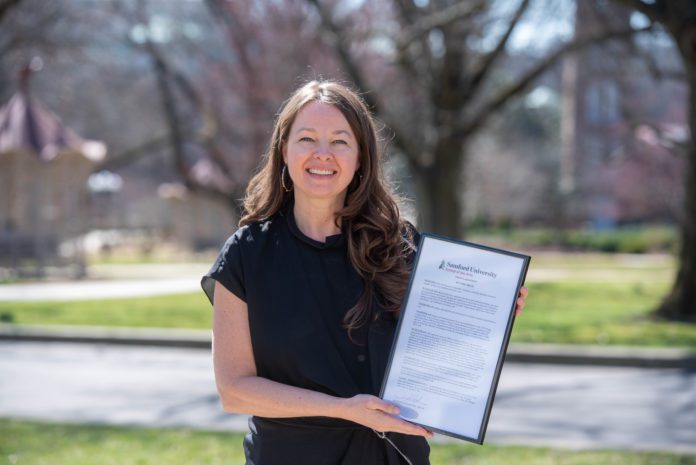 Belmont University's Director of External Relations and Executive Learning Networks Jill Robinson was recently named Samford University's School of the Arts Woman of the Year. The university puts forth multiple nominations and the recipient is then chosen by an award committee of the School of the Arts.
A graduate of Samford University in 1993, Robinson studied graphic design and illustration in the School of Arts. She moved on to Nashville to pursue her career eventually working at Belmont where she currently works in the College of Business and promotes the undergraduate and graduate programs offered to students.
"I often tell my students and work associates that Samford's School of the Arts prepared me to think creatively and problem solve at a higher level. Through my illustration art classes, we learned to take concepts, a book or a magazine article and translate it into one picture that could tell the whole story. Four years of this type of training, and you begin to see differently finding the nuances in communication," Robinson shared.
As a full-time staff and adjunct faculty member at Belmont, Robinson creates partnerships throughout the Middle Tennessee community. Robinson shared that she enjoys connecting and finding like-minded people to work alongside and helping others with their goals personally and professionally.
Robinson said the award came as a surprise to her and she heavily credits her support team at Samford University, sharing that they helped her be more observant of life, people and connections which have served her well in her career. "I owe that gift of seeing the few higher purpose solutions to Samford School of the Arts, and I am forever grateful they helped me succeed in this area in my business, nonprofit and education careers," she said.