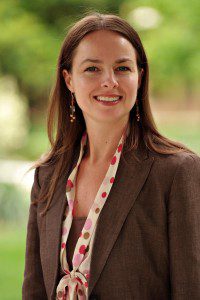 Belmont University has appointed Jill Robinson to the position of director of external relations and Executive Learning Networks for the College of Business Administration. Named the 2013 Young Leader of the Year by Young Leaders Council, Robinson has worked at Belmont since 2005, primarily in program oversight and marketing with the University's Center for Executive Education (CEE). In her new role, she will secure and manage corporate and CEO relationships in the greater Nashville business community, resulting in both an expansion of Executive Learning Network and a coordinated outreach effort to all key business school relationships and partners.
Robinson will report directly to College of Business Administration (COBA) Dean Dr. J. Patrick Raines, who said, "Jill will continue her leadership of the Executive Learning Network program, fostering a community of learning among the executive members in Middle Tennessee. As dean, I'm excited to have her work alongside our team in the College of Business Administration to build more relationships with area businesses in our community."
Robinson added, "I'm looking forward to this new opportunity to partner with more community and corporate organizations, meet with local businesses, hear their needs and identify ways to increase COBA's service to Greater Nashville area."
A graduate of Samford University (B.A. in Graphic Design) with an M.B.A and Master of Arts in Organizational Management from Trevecca University, Robinson offers more than 18 years of experience in leadership program management, community relations, volunteer management and organization partnerships. In addition to her work since 2007 with the Center for Executive Education, Robinson previously served for two years as Belmont University's senior university events coordinator and worked six years at the Tennessee Performing Arts Center in a variety of roles, including director of development.