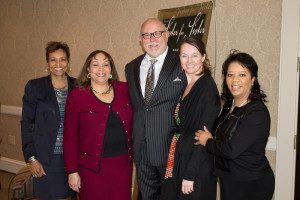 The National Coalition of 100 Black Women Inc. (NCBW), Metropolitan Nashville Chapter and Belmont University's College of Business Administration completed their leadership training program with 16 Nashville professionals receiving certification in nonprofit leadership.  The African-American Women on Boards Certification Program provided an introduction to the basics of board service, governance, strategic planning and overall responsibilities. The women were awarded their certificates during the 2014 Sister for Sister Conference Leadership Development Workshop on March 21.
"The African-American Women on Boards Certification Program is a key outreach initiative of the College of Business Administration at Belmont University. I am very pleased with the initial project encouraging diversity among nonprofit organization leadership, and believe as the program grows diversity in board governance will increase in our area.  These women, leaders in Middle Tennessee business, nonprofit and government sectors, are investing in their personal growth through this program, with the goal of being certified to serve on nonprofit boards," said Belmont's College of Business Administration Dean Pat Raines. "We believe the curriculum's focus on leadership, financial literacy, strategic planning and diversity and inclusion at the board level reflects not only a need in Tennessee but also is far reaching into a national platform for training 100 Black Women across the United States.  This is exciting for these women leaders and for Belmont as we hope to encourage change in diversity on boards at both the local and national levels."
Belmont and 100 Black Women announced their collaboration for the leadership development certification designed to train and prepare African-American women for leadership service on nonprofit, government and corporate boards a year ago, and the first module of the program began in the fall. The new initiative strived to develop and market competent, qualified and committed professional business women of color to help them gain access and share their skill sets to help organizations reach their full potential. Immediate past president NCBW National President M. Delois Strum said she plans to use the African-American Women on Boards Certification Program with Belmont as a model for board governance that may expand to NCBW chapters across the country.
Other supporting organizations included the Nashville Coalition of 100 Black Women Foundation Inc., Meharry Medical College, HCA and members of the national leadership arm of the National Coalition of 100 Black Women Inc.